Today's EU Settlement Scheme statistics show that about 5 million people have now applied to the scheme, which allows EU citizens (as well as EEA citizens, Swiss citizens, and some dependent family members) who were resident in the UK before 1 January 2021 to apply for 'settled status.'
This is for those who have been here more than five years; more recent arrivals can get 'pre-settled status', which can be upgraded in due course.
Given that the Office of National Statistics official population estimates, derived from the Annual Population Survey (APS) / Labour Force Survey (LFS), suggested that there were, prior to the pandemic, about 3.4 million non-Irish EU and EEA nationals living here, this number vastly exceeds even the highest expectations.
In its updated Impact Assessment, published in March 2019, the Home Office estimated that 3.5 million to 4.1 million people would be eligible to apply to the scheme.
This was based on the APS/LFS estimate of the resident EEA citizen population, adjusted for some other factors (migration in 2019 and 2020, non-EEA citizens who are eligible family members of EEA citizens, etc).
So far about 4.7 million people (of whom nearly 4.5 million are EU or EEA nationals) have been granted settled or pre-settled status; this is even after allowing for repeat applications (notably those who have already converted from pre-settled to settled status).
So the number of valid applications has by now already exceeded the upper bound of the Home Office's estimate of the resident population.
Moreover,  significant numbers of additional applications are still being received; as is usual with such schemes, there is likely to be a surge just before the final deadline.
The number of applications from non-EEA citizens who are eligible family members of EEA citizens – now approaching 300,000 – has also exceeded the Home Office's high estimate.
There are several reasons why the eligible population has proved to be considerably in excess of the estimates.
The APS does not, by design, count some groups (e.g. those in communal establishments) or short-term residents; and, since it is a snapshot, it does not count those who are no longer in the UK but still may have a claim to settled status based on past residence.
But other data suggests that our population estimates have systematically underestimated the number of EU citizens resident here.
As far back as 2015 – as I pointed out then – the Government's own data on tax, National Insurance (NI) and benefit receipt implied that there were significantly more EU citizens resident than the APS/LFS suggested; and these data were in turn inconsistent with migration estimates derived from the International Passenger Survey.
Since then, further evidence has accumulated. Over the period 2002 to 2020 about 6.8 million National Insurance numbers were issued to adult EU nationals – of which more than 2 million came since 2016.
While many will have returned home, this figure (which excludes children of EU nationals, whether born here or abroad, as well as those arriving before 2002) suggests a much larger resident population.
Next, the ONS has recently published new analysis which suggests that the official immigration statistics substantially understated EU net migration (as well as overstating non-EU migration) over the last decade, with a cumulative underestimate of about 800,000.
Finally, analysis of HMRC's Real-Time Information database suggests that just before the pandemic there were about 2.5 million EU national employees (excluding the self-employed) on HMRC systems; but the LFS/APS estimate of the number of EU national employees was under two million.
It seems likely that the APS would be more rather than less accurate for employees than for self-employed or non-employed people.
It does not seem implausible, then, that the APS-based estimates of the eligible population were perhaps 25% lower than the true number, implying an underestimate of the number eligible by 800,000-1 million.
In addition, looking by nationality, the discrepancies between the Home Office estimates and the number of applications is even larger for a number of countries, particularly those with large numbers of NI registrations in recent years.
The chart below shows applications, population estimates and NI numbers issued for the ten countries with the largest number of applications.
For Romania, for example, more than 850,000 applications have been approved, although the estimate of the resident population is only about 400,000.
Approximately 1.1 million NI numbers were issued to Romanian nationals, the majority within the last five years, consistent with the fact that most Romanian applicants have been granted pre-settled status.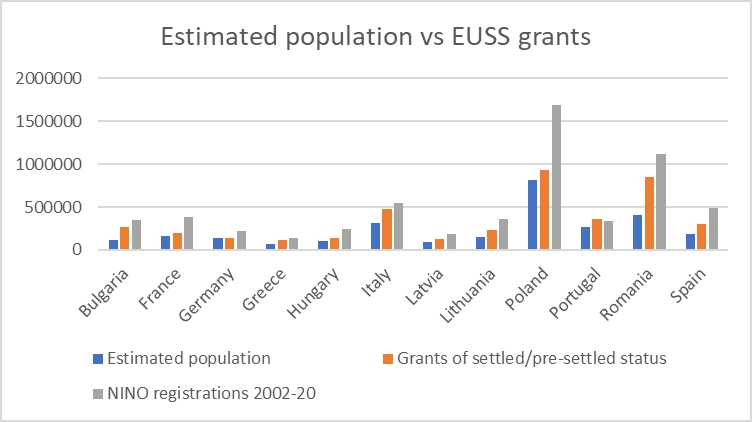 It is important to note that the number of applications approved is only a lower bound on the eligible population. As noted above, significant volumes of applications continue to be received.
Moreover, takeup of the scheme will be less than 100% – perhaps significantly less for some subgroups.
The result is that while we know that the Home Office estimate of those eligible was a substantial underestimate, we do not know by how much.
A further complication is that many of those whose applications have been approved may no longer be resident in the UK; a variety of sources suggest that 2020 saw significant return migration of EU citizens as a result of the pandemic, although there is huge uncertainty over the precise magnitudes.
But what can we conclude about how many eligible have not applied? Unfortunately, while the data shows conclusively that published estimates of the resident population were significantly understated, it does not permit us to say by how much.
If the very rough estimate derived above was accurate, then the eligible population might be between 4.2 and 5.1 million – implying anything from near-complete coverage to a possible deficit of up to approximately half a million.
While this would still represent a very high takeup rate of about 90% with three months to go, that would still imply a large population of people without any formal migration status as of 1 July.
So, while the apparently very high takeup of the scheme represents by any measure a huge success in both policy and delivery terms, it also raises uncomfortable questions.
Looking back, we now know that our systems for measuring population and migration have been wholly inadequate since at least the mid-2010s.
Looking forward, about 5 million people – perhaps a million of whom we did not know even existed – have been granted the equivalent of indefinite leave to remain in the UK, but we know relatively little about their demographics; indeed, we don't even know if they live here now.
And an indeterminate number of people – certainly tens of thousands, but possibly hundreds of thousands – are now, technically at least, irregularly resident.
Unfortunately the Government, while rightly trumpeting the success of the scheme, seems determined to ignore these uncomfortable facts.
The Home Office has not published revised estimates or undertaken any research or analysis aimed at estimating the eligible populations, still less at determining how many have not applied.
Indeed, the Home Office Policy Equality Statement for the scheme, published as recently as November 2020, reaffirms the 3.5 to 4.1 million estimate, although it was already obviously wrong.
It is unclear whether this reflects bureaucratic inertia, the potential political or expenditure implications of the fact that the resident population of EU origin is considerably higher than was thought, or a reluctance to estimate the size of the newly irregular population. But these issues cannot be resolved by ignoring them.
By Professor Jonathan Portes, Senior Fellow at the UK in a Changing Europe.