Sophie Stowers explains the different structures of local government in England, Scotland and Wales. She also sets out how local councils work, what services they provide, how they are funded, and when they are elected. 
Local government structures in the UK are a mess. There are some 12,000 local councils, ranging from small parish and community boards to large Combined Authority Areas, covering some of the most populus cities in the country. These numerous authorities co-exist and often overlap, with groups of smaller councils subsumed under County Councils, or grouped together to form combined mayoral authorities. Some councils have leaders, others have directly elected mayors – not to be confused with Metro mayors, Lord Mayors, or the Mayor of London. Who knows what a 'mayor' is anymore?
The following attempts to explain the various layers of local government in England, Scotland and Wales, clarify what they do and how they're funded. It also touches on the role of councillors, and how local elections in Great Britain work.
Types of council in England, Scotland and Wales
There are two different structures of council in England. There are 'single tier' councils, where one body is responsible for every function of local government, and 'two tier' councils, where local government responsibilities are shared between a larger and a smaller council.
Single tier councils
There are three kinds of single tier council:
Unitary councils: There are 62 unitary authorities in England, 22 in Wales and 32 in Scotland. They are known as city (e.g., Hull City Council) or borough (e.g., Warrington Borough Council) councils. These councils were previously two-tier authorities but have been merged. A single local authority now carries out all local government functions in these areas. These councils vary a lot in size: some cover large county areas; some a single city or town.
Metropolitan district councils: There are 36 metropolitan districts in England. These usually cover larger urban areas, such as big cities or a collection of towns. Like unitary councils, they can be known as boroughs (e.g. Bury Borough Council) or city councils (e.g. Liverpool City Council). Metropolitan districts are largely the same as unitary authorities and carry out many of the same functions, but have not previously been two-tier authorities.
London boroughs: The capital is split into 32 borough councils and the City of London (which is referred to as a 'sui generis' authority as it is technically a county, but treated as an additional borough). These are all essentially smaller, single-tier unitary authorities, except they share responsibility for certain services with the Greater London Authority.
Two-tier councils
In a two-tier structure, local government responsibilities are split between a district council and a larger county council.
District councils: There are 164 district councils in England. These usually cover rural areas with small populations or smaller cities and towns. They can be known as borough (e.g. Ashford Borough Council) or city councils (e.g. Norwich City Council). They are often responsible for local issues such as planning, local taxation, or waste collection.
County councils: There are 21 county councils in England, which usually encompass 5-10 district councils. They are responsible for the remainder of local government services (usually around 80% of the total services provided by a two-tier authority) which have a broader reach, such as children's services, social care and education.
Is there a third tier of government?
Town and parish councils (known as community councils in Wales and Scotland) make up a third layer of local government. These usually cover very small areas, such as small towns, villages, or neighbourhoods, and are responsible for hyper-local issues such as litter, allotments and community halls.
Regional governance            
In some parts of the country there is an additional layer of local government made up of groups of local authorities working together and receiving additional powers and funding from central government. These are known as combined authority areas.
Combined authorities were first established in England in 2009. They are legal bodies which allow groups of local councils to work together on issues which are traditionally the remit of central government, such as transport, skills, post-16 education, and economic policy. However, the power of each combined authority varies, as each has its own bespoke agreement with central government covering its funding and powers.
"Combined authorities were first established in England in 2009."
Most combined authorities are chaired by directly elected mayors, known as 'metro mayors', whose powers vary. They can put forward a mayoral budget and take on the role of Police and Crime Commissioner for their area. There are currently ten combined authorities.
Councils in London share their responsibilities with the Greater London Authority (GLA). The GLA is otherwise completely separate in terms of powers and remit, and is composed of the Mayor of London and the London Assembly, which is made up of 25 elected Assembly Members.
The services provided by councils
Local councils provide many services. They must provide some of these by law (known as statutory services, such as education), and their delivery is heavily controlled by central government. The other services they provide are optional (known as discretionary services, such as pest removal).
"In the last two decades, the number of responsibilities councils must deliver on have increased"
In the last two decades, the number of responsibilities councils must deliver on have increased, with local authorities taking on more power over public health, environmental wellbeing, welfare, police and crime. Many councils provide these in collaboration with national services (e.g., the NHS, the prison service or DWP), or government agencies (e.g., The Environment Agency, Highways England).
The table below shows the services councils are responsible for; as you can see, if you live under a single-tier unitary authority, metropolitan district or in a London borough, most if not all your local services will be carried out by a single authority. If you live in a two-tier system, services are split between your district council and county council.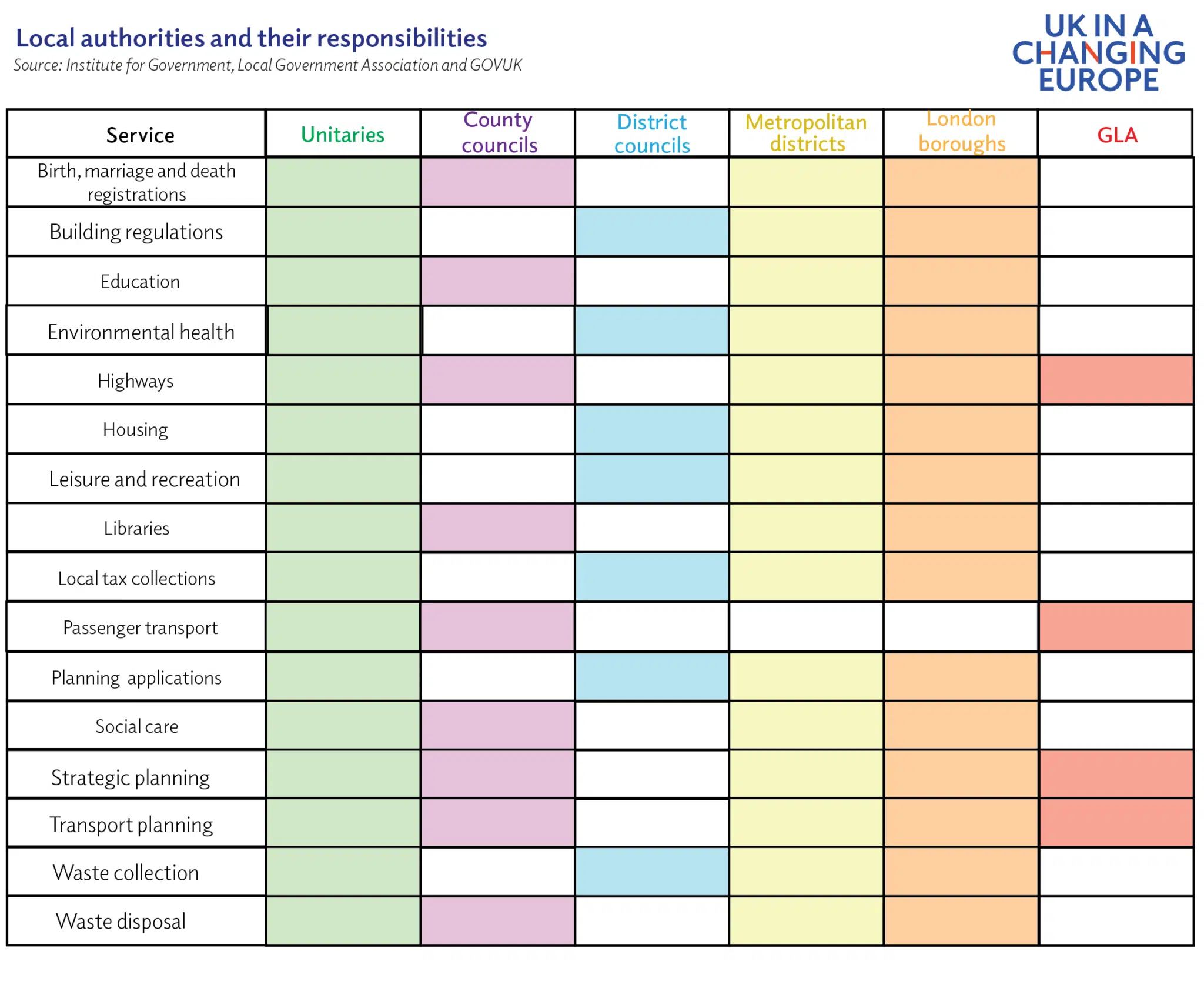 How councils work
Councils vary in terms of structure and leadership. Some are headed up by a council leader, some by an elected mayor, and some by a committee. Councils usually have a choice as to the type of structure they employ, but they can also be directed by central government to adopt a particular system. The three types of structure they can choose from are:
Leader and cabinet
This is the most commonly used council structure in England. Here, the full council (all the elected councillors in a local authority) will elect a council leader, who will usually belong to the largest party. They will then select a cabinet, with individual councillors having specific policy responsibilities.
Depending on the council's bylaws, some members of the cabinet may have decision-making powers, or decisions may be made only by full cabinet. However, the leader is ultimately responsible for the council's performance, and its relationship with central government and other layers of local governance.
Mayoral system
This system works similarly to the leader and cabinet structure, but instead of having a council leader, there is a directly elected mayor. The mayor is elected by residents of the local authority, as opposed to other councillors. The mayor performs essentially the same role as council leaders – their responsibilities are not the same as those of metro mayors or lord mayors!
"As of the 2023 local elections, voters in England will need to show photo ID before being able to cast their ballot."
15 councils in England currently use this system – none in Scotland or Wales employ it. However, some local authorities are choosing to abolish the role; Liverpool City Council will be returning to the leader and cabinet model from May 2023, and Bristol will be changing to a committee system from 2024.
Committee system
Under this structure, a council does not have a leader or a cabinet. Instead, the council is split into committees which focus on specific policy areas and make decisions in that field. The committees are politically balanced and made up of councillors in proportion to their party's representation in the council as a whole.
Who are councillors and how are they elected?
Councillors are elected by and represent voters living in wards, which are much smaller than parliamentary constituencies. Like MPs, councillors conduct casework and answer queries from constituents. They represent the views of local organisations and businesses in their area in council and make speeches and attend committee meetings. There are around 17,000 councillors in England, serving a four-year terms.
Local elections
Local authorities are split into wards. These wards are reviewed by the Local Government Boundary Commission at a minimum of every twelve years, to ensure that councillors in a given local authority represent similar numbers of constituents. They do not map to parliamentary constituencies.
In England and Wales, these wards can either be single or multimember (where multiple councillors represent a single ward). Parties usually put forward as many candidates as there are seats in wards.
In England and Wales, the First-Past-the-Post system is used for local elections, though local authorities in Wales can also use the Single Transferable Vote (STV) system if they choose. All wards in Scotland are multimember constituencies and local elections are conducted using STV. In Wales and Scotland, 16- and 17-year-olds can vote in local elections.
Local authorities may elect all their councillors simultaneously, or stagger their election over two or even three years. A council using 'all out' elections will hold elections every four years, with every seat up for grabs. A council that elects by thirds holds elections every year except county council election years, with a third of council seats up each time. A few councils elect by halves, with elections held every 2 years and half of council seats up for grabs.
Councils do have the choice to move to 'all out' elections if they currently use the thirds or halves system, if they so wish. However, councils which have moved to an 'all out' system cannot revert to electing by halves or thirds.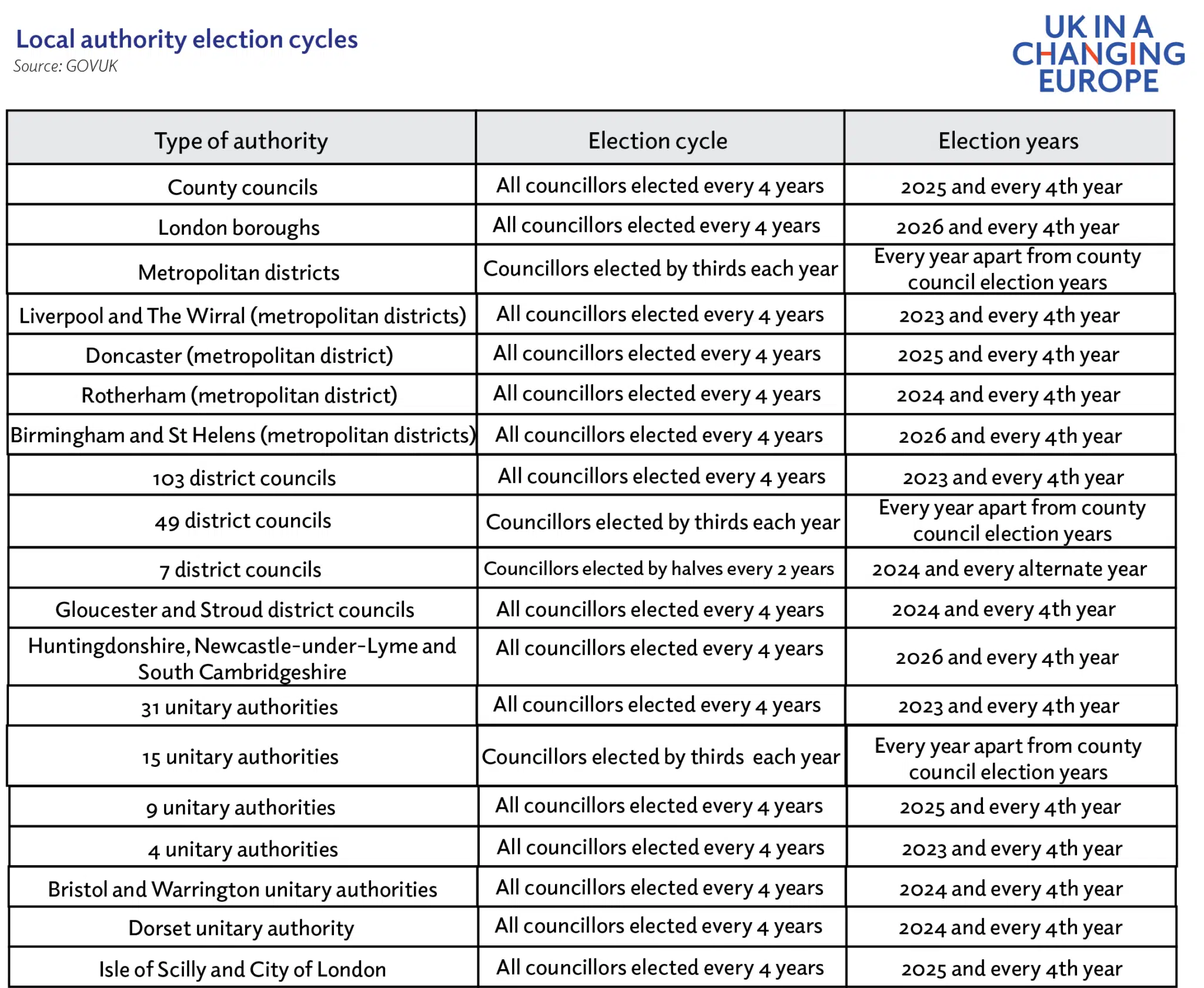 Photo ID
As of the 2023 local elections, voters in England will need to show photo ID before being able to cast their ballot. This will apply to general elections held after October 2023. To vote, people in England will need to show their passport or driving licence, or other accepted documents such as a blue badge or over 60s travel card. Voters will also be able to apply for a Voter Authority Certificate from the government if they have no valid ID document.
Voters in Scotland and Wales will not have to show photo ID to vote.
Local council funding
Local councils get most of their income from three key sources.
Direct funding from central government
Local authorities receive money from Westminster in the form of grants, which are targeted towards a specific service. Most of these grants can be spent directly on services the council is responsible for, such as housing or rural services, and are known as 'core' or 'general' funding. However, some grants are ring-fenced, and are never actually touched by local councils, instead going directly to services such as schools, police or benefit payments.
The way these grants are allocated means council budgets are often made up of various small, targeted pots of money, which last for different amounts of time and aren't automatically renewed. In some instances, councils will have to bid for 'pots' of money on an annual basis. Councils covering areas where people are less likely to pay council tax or property values are lower will be much more reliant on national government grants as a source of income.
Taxes on commercial properties
These taxes, known as 'business rates', apply to properties owned by businesses in local authority areas. A government body, the Valuation Office Agency, decides the rate of this tax, and central government determines which businesses must and must not pay it; councils simply collect it. Local authorities keep half of the income they collect from business rates. The remainder is sent to the Treasury, which distributes the money between local authorities depending on their economic circumstances.
Taxes on residential properites
Better known as 'council tax', this is the money individuals pay their council based on the band their home falls into. These bands are based on the value of a home on 1 April 1991 – the more expensive the property was back then, the more you'll pay. These taxes are collected and spent locally.
"Around 65% of local authorities have a lower spending power (i.e. the amount of money available to them to spend from grants, business rates and council tax) now than they did in 2015."
Council tax bands are set by central government: the maximum amount councils can charge is set by these rules, meaning local councils cannot increase the highest rate of tax on high value properties. However, within these bands, councils set their own tax rates, hence large variations: average council tax in Rutland is £2422 a year, compared to £921 in Wandsworth.
Exemptions from council tax are decided by government (e.g. students do not have to pay council tax), and council tax increases are also capped by central government at 2% – councils cannot raise tax beyond this unless they hold a local referendum.
Councils can also raise additional income via:
Reserves: These are essentially savings
Outside investment: Some councils will invest in property in the area
Fees and charges: Councils can implement fees for the use of some of their services, such as submitting applications for planning permission, parking, or use of council swimming pools or gyms. However, they cannot make a profit, and any money made must be channeled back into the service area (e.g. gym fees must be channeled into leisure activities). They cannot charge for services they have a legal duty to supply.
Cuts to local authority spending       
The funding available to local councils from the three key sources above has fallen since 2010. Around 65% of local authorities have a lower spending power (i.e. the amount of money available to them to spend from grants, business rates and council tax) now than they did in 2015.
The main reason for this is reduced funding from central government, which have been reduced by 37% since 2010. This has meant that many local authorities have sought to increase council tax to make up for this shortfall, with councils raising 25% more council tax in 2020 than in 2010.
As described above, some types of council have found it harder to cover this shortfall by increasing council tax, because they cover areas with higher levels of deprivation where less people pay it – London local authorities and metropolitan districts have been some of the most affected by cuts to government grants. Those authorities with responsibility for social care have also faced financial difficulties due to increased demand for services in recent years.
In 2020/21, local authorities in England had a net current expenditure of £106 billion.
Scotland and Wales
Funding in Scotland and Wales is slightly different, due to the different structures of local authorities and the role of devolved government.
The Welsh government funds local government in Wales. Welsh councils tend to be more reliant on this government funding over council tax or business rates in comparison to English councils.
In Scotland, local authorities get around 70% of their funding from Scottish government grants. However, the Scottish government has increased the rate of council tax on highly valued households, in an attempt to encourage local authorities to become more dependent on local taxation.
By Sophie Stowers, researcher, UK in a Changing Europe.