On 28 February 2022, days after Russia's full-scale invasion of Ukraine, Ukrainian President Volodymyr Zelenskyy submitted an application for his country to join the European Union.
On 23 June 2022, the European Council officially approved Ukraine's status as a candidate to join the EU, meaning it now begins the long road towards EU membership.
This explainer outlines the wider context of the Ukraine-EU relationship, how accession to the EU works, and what Ukraine's path towards full EU membership looks like.
How has the Ukraine-EU relationship changed over time?
Ukraine declared its independence from the Soviet Union in 1991, and in 1994  signed a Partnership and Cooperation Agreement with the EU which pledged common values around democracy, human rights and a market economy, and established 'the prospect of a future free trade area'.
Russia was Ukraine's largest export market as recently as 2012, but by 2018 – following the signing of the 2014 Ukraine-EU Association Agreement – Russia's share of Ukrainian exports fell to 15% while the EU accounted for 41%, and imports followed virtually the same pattern.
The EU is now Ukraine's largest trading partner, accounting for 40% of its trade in 2019, with total trade between the two sides worth €43.3 billion.
Throughout the post-Soviet period, relations with the EU – and the corresponding impact on relations with Russia – have been a central factor in the political development of Ukraine. However, it has not been a smooth path towards ever-closer co-operation.
In 2013, then-Ukrainian President Viktor Yanukovych refused to sign the EU Association Agreement, ultimately leading to the 'Euromaidan' Revolution. Yanukovych fled the country and the new President, Petro Poroshenko, signed the Agreement in June 2014. Russian propaganda called the revolution a 'coup d'état' and used it as key grounds for their illegal invasion and annexation of Crimea in 2014.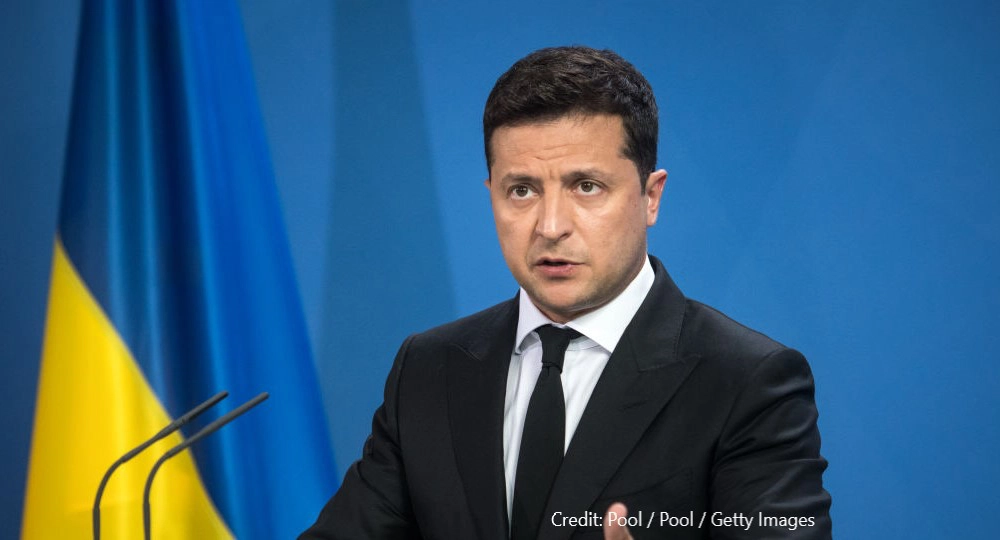 In February 2019 the Ukrainian parliament approved a constitutional amendment making EU (and NATO) membership long-term goals for Ukraine. Poroshenko then lost the 2019 Presidential election to Volodymyr Zelenskyy, a candidate with no prior political experience, who took almost three quarters of the final vote.
Zelenskyy declared pro-EU policies, keeping Ukraine on a path to EU integration and NATO membership and seeking EU support for anti-corruption and judicial reform measures (although the path toward this has not always been straightforward).
What is the formal Ukraine-EU relationship?
A Ukraine-EU Association Agreement was signed in 2014 and has been in force since 2017. It created new economic and political ties between Ukraine and the EU, to help Ukraine achieve 'convergence with the EU in political, economic and legal areas'.
An association agreement is not an 'accession agreement' for a country to join the EU. However, the underlying aim of Ukraine's agreement was to converge its economic and legal standards with the EU's over time, building a path towards Ukraine's potential future EU membership.
The agreement underlines the at times uncomfortable meeting point between Ukraine's primarily political aims in becoming closer to the EU and the EU's highly technical approach to allowing access to its Single Market and institutions.
In terms of economic integration, a 'Deep and Comprehensive Free Trade Area' (DCFTA), implemented over a transition period of up to ten years, is intended to establish free movement of goods, services and capital.
Over that period, tariffs will be gradually cut and Ukraine has committed to harmonising with EU standards in a range of technical and trade-related areas (such as competition, state aid, customs and sanitary and phytosanitary (SPS) measures) as well as a gradual adoption of the EU legal acquis. Ukraine can also adhere to EU programmes (such as Horizon) and cooperate with EU agencies (such as Europol).
The agreement did not permit free movement of people, but since 2017 Ukrainians have been able to travel visa-free to the EU for tourist trips of up to three months.
There are also commitments in the Association Agreement to tie Ukraine more closely into the EU's Common Security and Defence Policy, and greater cooperation on energy policy, with Ukraine intending to join the EU's energy market by 2022/23. Since 2014 Ukraine has taken on other active plans for further integration, for example into the EU's digital single market.
Other pre-2014 agreements also have some impact on relations. The EU's 2009 Eastern Partnership with six post-Soviet states including Ukraine (now five, as Belarus' membership was suspended in 2021) aims to develop political association and economic integration, for example through public health initiatives and a Covid-19 support package for the Partnership states.
When did Ukraine apply for EU membership?
On 28 February 2022 the Ukrainian President Volodymyr Zelenskyy formally signed an application for EU membership. Days earlier he said the Russian invasion was 'a crucial moment to close the long-standing discussion once and for all and decide on Ukraine's membership'.
On 17 June 2022 the European Commission recommended that Ukraine's (as well as Moldova's, but not Georgia's) application for 'candidate status' to join the EU be approved. On 23 June the European Council approved those recommendations.
Ukraine reached this point much earlier than had been expected prior to the war. Zelenskyy had previously expressed a desire for EU membership, but acknowledged that an application was not imminent. In October 2019, Ukraine's then-Deputy Prime Minister Dmytro Kuleba estimated the government needed five years to meet the EU's accession criteria.
Indeed, there have been long-running concerns about corruption in Ukraine –  Transparency International ranks it as the second-most corrupt country in Europe (rating it as more corrupt than Russia). A December 2020 judgement by the Council of Europe (not an EU body) termed as 'regrettable' the Ukrainian' Constitutional Court's dismantling of elements of its  anti-corruption legislation.
Despite this, the European Commission President Ursula von der Leyen stated that the approval of Ukraine's application was 'merit-based' and the Commission said Ukraine was 'well advanced in reaching the stability of institutions guaranteeing democracy, the rule of law, human rights and respect for and protection of minorities'.
How does accession to the EU work?
EU accession is a very lengthy and technical process, laid down in Article 49 of the Treaty on European Union (TEU), designed to ensure potential new members meet the legal and economic standards which are central to the functioning of the Union.
The submission of a membership application by a country is the first formal step. The European Commission examines the application and makes a judgement as to whether a country meets the accession standards, known as the 'Copenhagen criteria', which are:
stable institutions guaranteeing democracy, the rule of law, human rights and respect for and protection of minorities;
a functioning market economy and the capacity to cope with competition and market forces in the EU;
the ability to take on and implement effectively the obligations of membership, including adherence to the aims of political, economic and monetary union.
The EU has, in the case of Western Balkan states, also imposed additional criteria around co-operation with close neighbours.
If the Commission considers that the applicant country meets the criteria, the application must then be approved unanimously by all 27 member states at the European Council (and by a majority of MEPs in the European Parliament), giving the applicant 'official candidate' status.
This is the point Ukraine has reached. Then come several further steps:
The candidate country and the Commission must next draw up a negotiating framework, which must be approved by every EU member state.
Once the framework is approved, formal negotiations begin, involving the country adopting existing EU law and implementing the reforms necessary to meet the accession criteria, as well determining the details of their contributions to the EU budget and any transitional arrangements allowing certain rules (such as free movement of persons) to be phased in over time. Negotiations are divided into six thematic clusters covering 35 policy chapters in all. Each individual chapter is only closed when every EU member state is satisfied that the applicant has made sufficient progress.
Once every chapter is concluded, an accession treaty is drawn up, laying out the terms of conditions of membership. New member states are expected to join the Schengen Area and the Eurozone.
Once the accession treaty is fully signed and ratified, a country becomes an acceding country until its date of membership, as laid down in the treaty. An acceding country does not enjoy the full benefits of EU membership but can comment on draft EU proposals and take up speak but not vote within EU bodies and agencies.
How long does accession take?
On average, it takes five years between the opening of accession negotiations and a country becoming an EU member state. This does not, however, factor in the time during which an application is assessed and negotiating mandates agreed. Moreover, the negotiation process has taken longer than average for the EU's most recent new joiners: Bulgaria, Romania (both seven years) and Croatia (eight years).
Given the significant concerns about Ukraine's record on corruption, the freedom of its media and its appointments processes for judges, it may take some time to prove it has reached the necessary standards for membership. Indeed, Ukraine must meet some additional criteria around the rule of law, corruption and the judiciary before its negotiations can progress further.  On the other hand, it is estimated that Ukraine has already adopted 70% of the EU's legal acquis.
Prior to Ukraine's application, six countries were in the process of trying to join the EU. Bosnia & Herzegovina had their last application rejected for failing to meet the accession criteria; Albania and North Macedonia have had their applications accepted but negotiating mandates are yet to be agreed; while Turkey, Montenegro and Serbia have been negotiating since 2005, 2012 and 2014 respectively (with Turkey having first made an application in 1987 and first signed an association agreement in 1963).
Are there any obstacles to Ukraine achieving full membership?
Aside from the fact that accession is typically a long and technical process, it can also be fraught with political tensions among member states which can either stymy or accelerate progress (the amount of political goodwill towards Ukraine makes the latter more likely than the former).
Greece has previously threatened to veto a Treaty unless Cyprus' accession was granted, and EU auditors have expressed regret over the premature accession of Bulgaria and Romania in 2007 for largely political reasons.
In 2019, French President Emmanuel Macron intervened to block the beginning of formal negotiations with Albania and North Macedonia (which had taken steps such as adding 'North' to its name to address Greek concerns), arguing that the EU needed to focus first on internal reform (for example around rule of law concerns in Poland and Hungary) and re-draw the accession process to reflect this.
The specific case of Ukraine has already sparked some controversy among member states, with states including Portugal and Belgium arguing its candidate status provides it with false expectations. Some member states may be reticent about creating a perception that full membership can now be fast-tracked.
The process could also fuel wider debate about the possibility – put forward by French President Macron – of a new 'European political community' as a more immediate alternative to granting Ukraine full membership. This could entail different tiers of EU membership, allowing countries to participate in some EU schemes without the rights and responsibilities of full membership. In outlining the vision, Macron argued that Ukraine's accession would take 'in truth, probably several decades', hence the need for a new model 'unless we decide to lower the standards of this membership'.
On the same day the European Council approved Ukraine's candidacy, it separately discussed the idea of a European political community, although its conclusions noted 'such a framework will not replace existing EU policies and instruments, notably enlargement'.
Another factor to consider is that Ukraine would become the EU's fifth-largest member by population size, giving it a relatively influential voice in the Parliament and Council, where seats are allocated according to population size. This may unsettle other Member States.
Where does this leave other countries seeking accession?
Moldova (which borders Ukraine and could be the subject of a future invasion attempt by Russia) was also granted candidate status on 23 June. However, the fast-tracking of their applications risks upsetting other states in similar positions.
Georgia had an application for candidacy considered alongside Moldova and Ukraine, but it was turned down. The EU recommended that Georgia be granted candidate status once a number of priorities were addressed including reducing political polarisation, ensuring the full functioning of state institutions and judicial reform.
Meanwhile, several member states support granting candidate status to Bosnia & Herzegovina, which had a previous application for candidate status rejected, in order to stave off the threat of Russian influence and wider conflict in the region. The European Council concluded on 23 June that it is ready to grant Bosnia & Herzegovina candidate status once it has implemented 14 priorities set out earlier in the month.
Accession negotiations with Albania and North Macedonia, both of whom have candidate status, are yet to begin due to Bulgaria blocking the talks over historic disputes with North Macedonia about history and identity. Ukraine's candidate status has strengthened the sense of bitterness towards Bulgaria but it has refused to relent.
Three countries (Turkey, Montenegro and Serbia) have started negotiations with the EU – but these have all but de facto stopped, meaning the Ukrainian application could well overtake them in the coming years.
By Joël Reland, Researcher at UK in a Changing Europe.