James Bowes sets out how the work visa system has changed post-Brexit, highlighting that there are now more non-EU nationals working in the UK than EU nationals. He shows that this is not just driven by work visas but also by other categories of immigration.
Post-Brexit, work visa rules were liberalised, and the number of non-EU nationals working in the UK recently surpassed the number of EU nationals working in the UK. But this isn't just down to the changes to work visa rules – it is also a result of increased immigration through other visa categories. Different sectors have also changed their recruitment patterns in response to the new immigration system and the end of EU freedom of movement.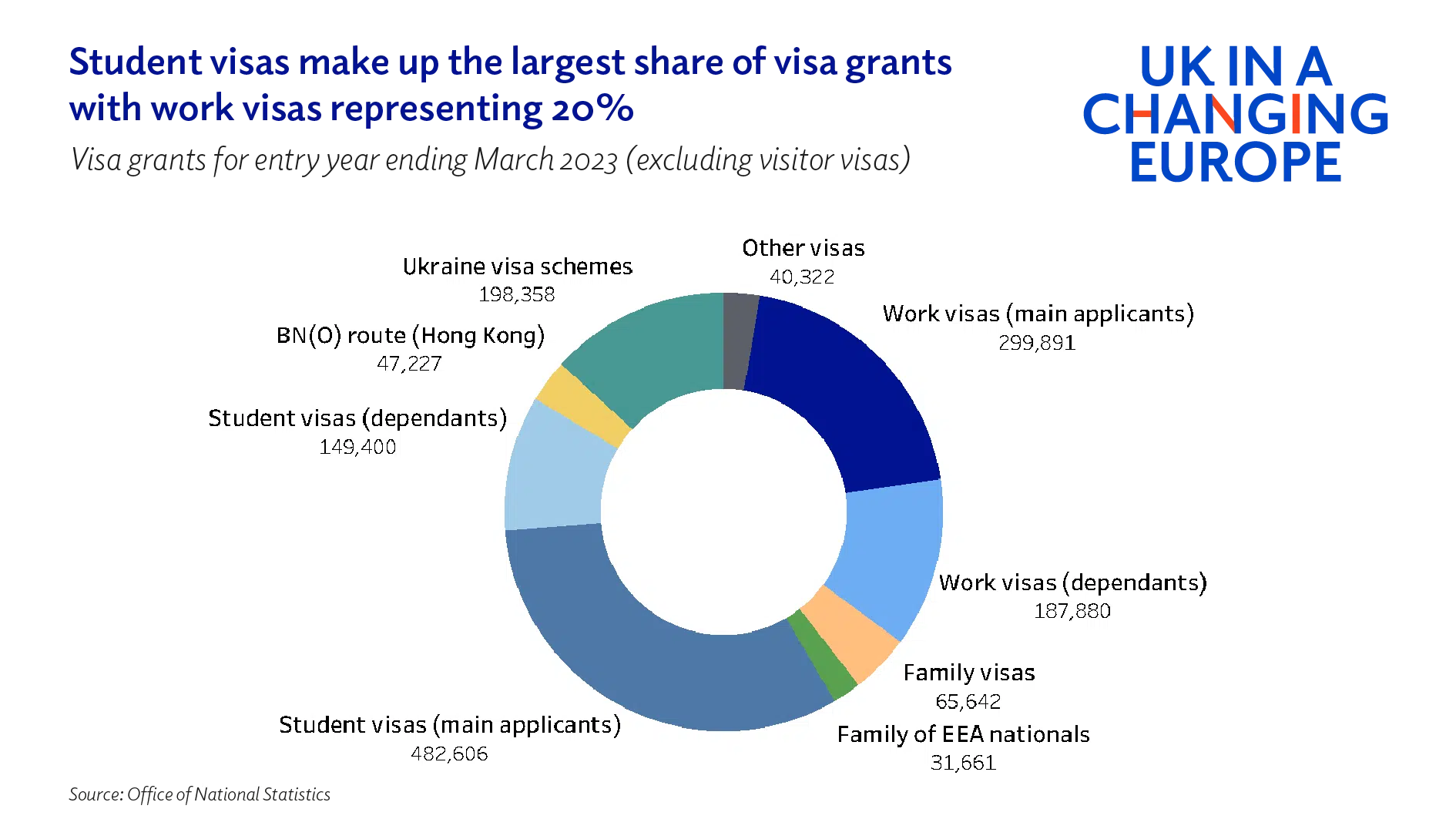 People granted a work visa as a main applicant represent 20% of visa grants for entry (excluding visitors). People in the other visa categories have the right to work. In all of the above categories, most visas are granted to non-EU nationals. Therefore, the number of non-EU nationals working in the UK has increased by more than the number of work visas granted.
The humanitarian resettlement schemes for people from Hong Kong and Ukraine were introduced in 2021 and 2022 respectively. International student recruitment is at a record high. This has led to policy change: in response to high numbers of dependants of students, master's students will no longer be able to bring dependants to the UK from January 2024. There are two main types of long-term work visas: the skilled worker visa and the global business mobility visa. The skilled worker visa allows settlement in the UK after 5 years. The global business mobility doesn't; it is designed for staff moving internally within multinational companies.
The skilled worker visa replaced the Tier 2 (General) visa in January 2021. It has a lower salary threshold and skill threshold than the Tier 2 (General). The residential labour market test and visa cap have been abolished. Visa fees have been lowered for NHS and social care staff.
The global business mobility visa replaced the Intra Company Transfer visa in April 2022. The scope of the visa was expanded to include other pathways (secondments, service supplier and workers expanding their company into the UK). The salary and skill thresholds remain high.
The main temporary work visas are the seasonal worker visa and the youth mobility scheme. The youth mobility scheme is for working holidaymakers. The seasonal worker visa was introduced in March 2019 and allows people work for up to 6 months in seasonal agricultural roles.
The graduate visa was introduced in summer 2021 and allows international students to remain in the UK for 2 years after graduation, or 3 years if they have a PhD. International students can also switch directly to a skilled worker visa. The data doesn't allow the number of people switching from a student or graduate visa to a skilled worker visa to be identified.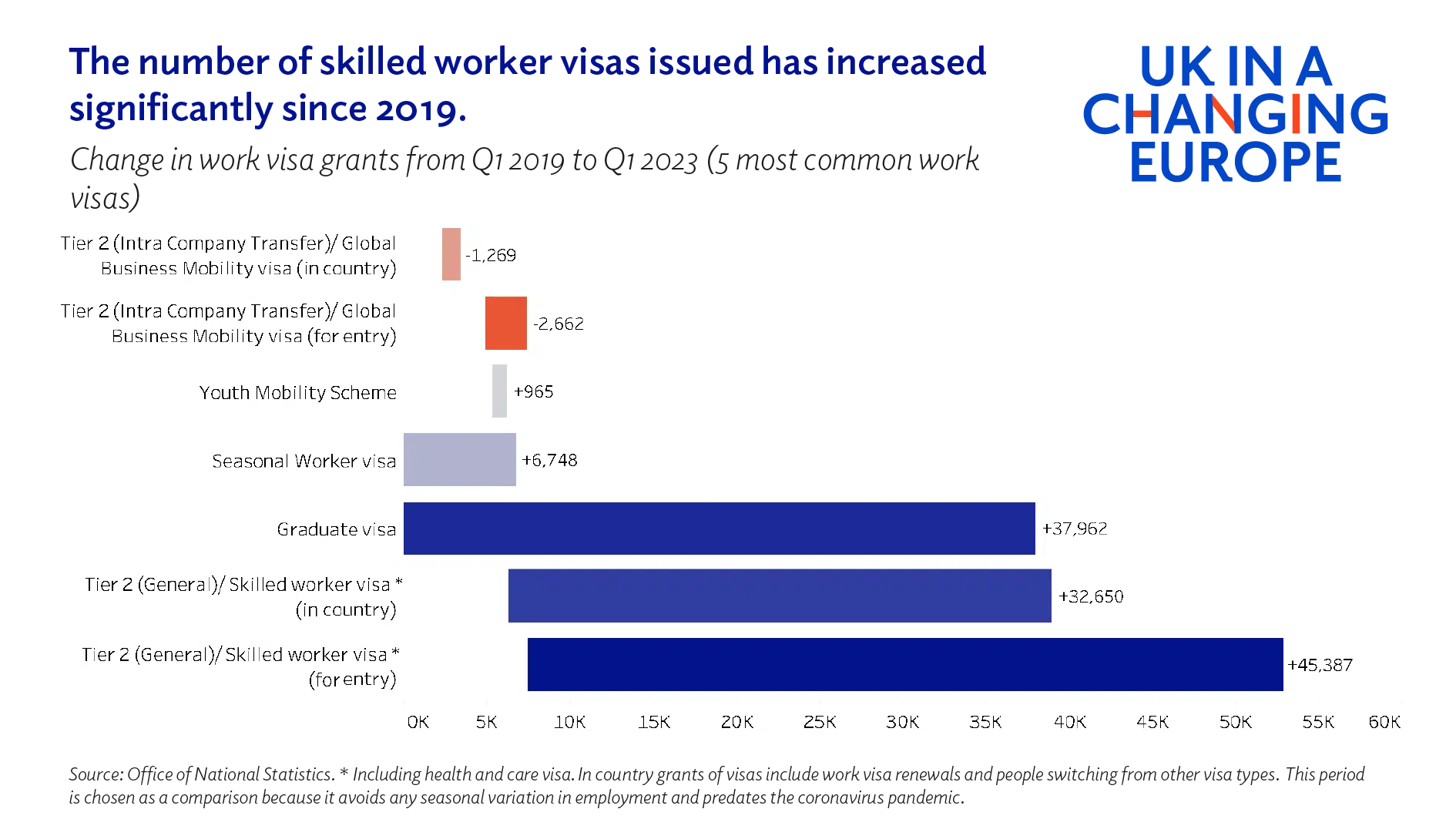 The number of skilled worker visas issued has increased significantly since 2019. However, the number of global business mobility visas issued has decreased.
Many work visa grants are to former international students as the graduate visa has seen a high uptake. The majority of people with a graduate visa work in graduate level roles. Care homes recruit many former and current international students.
Number of long-term work visas sponsored in Q1 of 2023 by top ten industries
| | | |
| --- | --- | --- |
| Industry | For entry | In country |
| Human Health and Social Work Activities | 36,816 | 22,019 |
| Professional, Scientific and Technical Activities | 4,338 | 3,911 |
| Information and Communications | 4,106 | 4,386 |
| Financial and Insurance Activities | 2,599 | 2,394 |
| Manufacturing | 2,255 | 1,113 |
| Accommodation and Food Service Activities (Hospitality) | 2,014 | 1,446 |
| Arts, Entertainment and Recreation | 1,327 | 486 |
| Education | 1,269 | 1,624 |
| Construction | 823 | 532 |
| Wholesale and retail trade; repair of motor vehicles and motorcycles | 772 | 1,097 |
The visa data provides a breakdown of the number of long-term work visas sponsored by industry. This is different to the number of visas issued as it takes time for applications to be processed.
In Q1 of 2023, the health and social work sector sponsored 62% of long-term work visas for entry and 54% of in country applications. 46% of long-term work visa applications for entry were for care workers and senior care workers; 12% were for nursing roles.
According to HMRC data, the health and social work sector is recruiting non-EU nationals at a much higher rate than it ever recruited EU nationals. There has been no reduction in the number of EU nationals employed by the sector.
In 2020, two sectors saw a significant drop in the number of EU nationals they employed: hospitality, and administrative and support services. There has since been a significant increase in the number of non-EU nationals working in these sectors. This increase can't be explained by the number of work visas sponsored by these sectors alone.
When the UK was still in the EU, the education, financial and insurance, and professional, scientific and technical sectors recruited EU and non-EU nationals in roughly equal numbers. They now recruit more non-EU nationals than EU nationals. The information and communication sector already recruited more non-EU than EU nationals under the old work visa system, many as intra company transfers.
Before the creation of the seasonal worker visa, the agricultural sector recruited seasonal workers almost exclusively from the EU. However, recruitment of EU national seasonal workers was gradually becoming more difficult, even before the 2016 EU membership referendum.
Outside of the health and social work sector, most skilled worker visas are for graduate level jobs (NQF level 6 or higher). These jobs were eligible for a Tier 2 (General) visa under the old immigration system.
Medium-skilled jobs (NQF level 3-5) became eligible for a skilled worker visa under the new immigration system. Care workers and home carers is the only occupation below NQF level 3 that is eligible for a skilled worker visa.
The new work visa system isn't a direct replacement of work-based immigration of EU nationals to the UK. Instead, it is a system dominated by high levels of NHS and social care recruitment, and by graduating international students. Nevertheless, even sectors that rarely sponsor work visas have seen an increase in the number of non-EU national staff they employ because of other categories of immigration.
By James Bowes, Space Management Assistant, Strategic Planning and Analytics, University of Warwick.