Catherine Barnard and Fiona Costello set out why an automatic extension of EU pre-settled status for a further two years for those yet to 'upgrade' will leave more vulnerable individuals in an ongoing precarious position.  
More than six years since the UK voted to leave the EU, the government is still navigating the detail of protecting the rights of those EU/EEA nationals (and their family members) who had moved to the UK before Brexit.
To secure their rights the Home Office introduced the EU Settlement Scheme which established two statuses: (i) settled status (SS), which is similar to indefinite leave to remain (ILR), and (ii) pre-settled status (PS), which is similar to limited leave to remain (LTR).
To date, there have been more than 7.4 million EU and EEA applications to the scheme: 49% (3.5 million) were granted settled status, 38% (2.7 million) were granted pre-settled status and 12% had other outcomes (including 574,590 refused applications, 170,750 withdrawn or void applications, and 145,610 invalid applications).
Those with PS need to apply to 'upgrade' to SS. Under the original scheme individuals had to apply for SS before their pre-settled status 'expired' – five years after the date of grant – otherwise they stood to lose their legal rights. This was successfully challenged in the High Court by the EU citizens' rights watchdog, the Independent Monitoring Authority, and since then those affected have been looking for clarity from the Home Office on how it intends to comply with the judgment.
The Home Office has now announced that it will implement a two year automatic extension for PS holders from September 2023. The High Court also said that once the relevant conditions are met the right of permanent residence under the Withdrawal Agreement is acquired automatically. These two statements have created some confusion the Home Office is yet to clear up – how does the two-year extension sit with the automatic accrual of permanent residency rights under the Withdrawal Agreement?
Further, if someone fails to upgrade after an initial two-year extension, what happens then? From 2024, the Home Office intends to convert some individuals automatically from PS to SS via automated digital checks (e.g., HMRC records etc). But as we have written elsewhere, for many low paid migrant workers in precarious zero-hour or informal employment contexts, or those not working, this digital footprint is not being generated.
And it's not just adults: there have been more than 1.2 million applications for children (aged under 18) to the scheme, many of whom will also not be generating the required footprint for an automatic upgrade.
All of this is important because there are significant differences between the rights and entitlements of those with PS and SS. The Fratila judgment confirmed that someone with PS but no other 'qualifying right to reside' (such as working, being self-employed etc.) could not claim universal credit (UC).
Other vulnerable individuals are also affected: cases such as CG and AT concerned victims of domestic abuse who were non-working PS holders. These women were also denied the right to public funds (here UC) and therefore the safety net afforded to others in similar situations. Had they had settled status (SS) they would be able to access public funds without needing to show another 'qualifying right to reside' (alongside their status).
Women such as those in CG and AT may also be denied the safety of refuge due to their ineligibility for housing benefit that 'pays' for the accommodation in a refuge. Unless so-called 'NRPF' (no recourse to public funds) beds are available, they cannot get help. In fact, women who have 'NRPF' as a condition of their stay in the UK (attached to their visa, such as those who reside in the UK on a partner or a spousal visa) can apply to have this condition temporarily lifted if they are a victim of domestic abuse and need to access public funds to access safety. But EU women with PS have no legal route to lifting the restriction on their access to public funds.
But it is not only victims of domestic abuse who suffer from this tiered access to support and safety. We have been working with GYROS, a charity in Norfolk that supports migrant workers offering immigration and other advice and support.
GYROS works particularly with low paid migrant workers, the majority of whom work in local poultry and meat processing factories employed via an agency on zero-hour contracts. Of their clients, 86% self-report their English language skills as either limited, very limited or none. And more than 60% of their clients rate their IT skills as lower than 5 out of 10 (with 1 being non-existent and 10 being excellent). For this reason, the digital (English language) settlement scheme was always difficult to navigate. GYROS' current data shows that the majority (62%) of their clients have PS, which is much higher than the national figure of 38%. When asked if they will need help to 'upgrade' to SS, 97% of their clients say they will (and 87% report that someone else completed their initial application for them).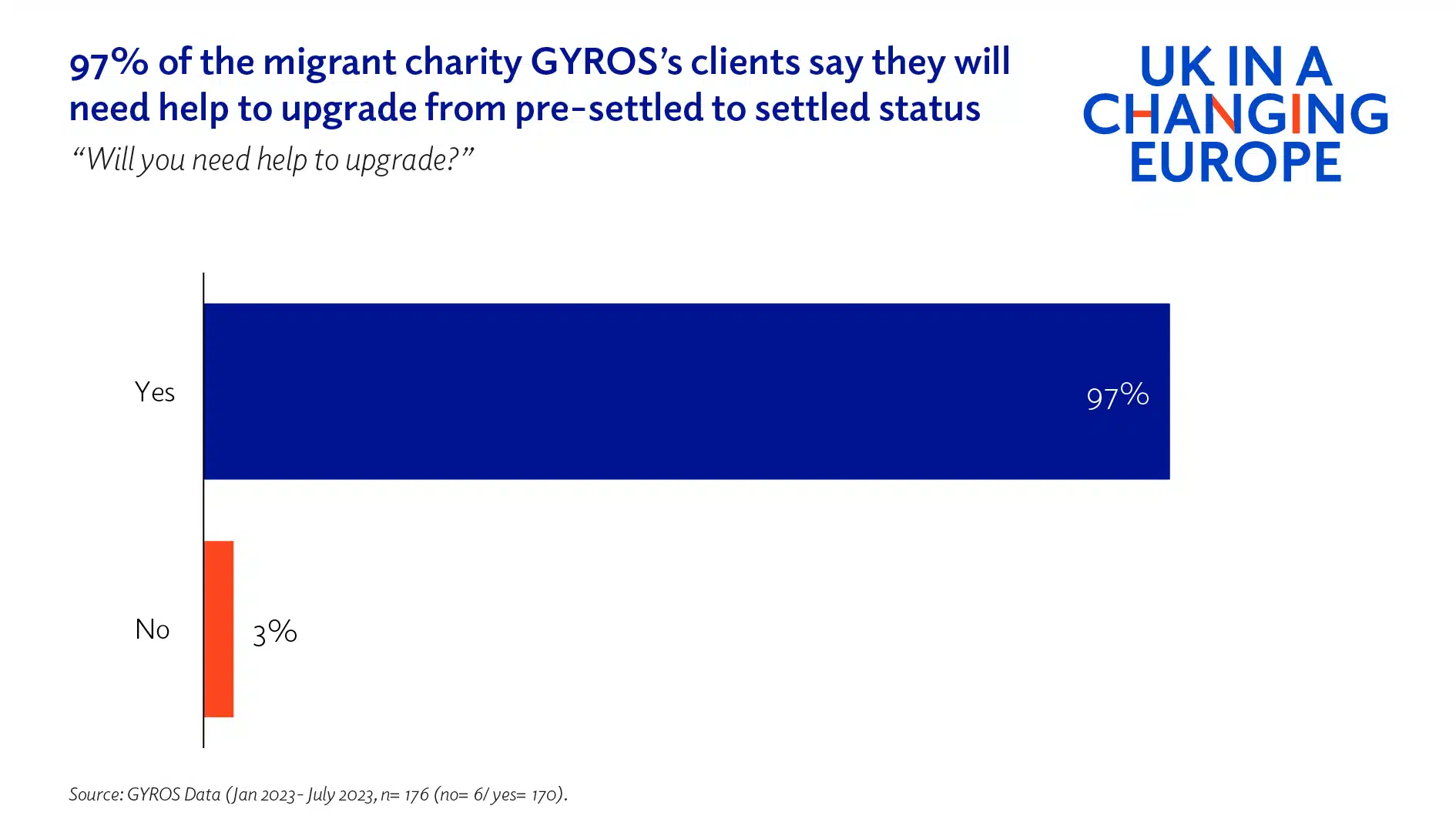 In terms of using the status to demonstrate their right to work/rent in the UK, 92% say they are unable to generate for themselves a digital share code necessary to give to an employer/landlord. As we've highlighted before, this leaves this group vulnerable to local 'advice sharks' looking to capitalise on individuals' inability to interact with their own immigration status.
While an automatic upgrade from PS to SS is undoubtedly helpful for many, automated checks will likely not generate sufficient evidence for more vulnerable groups, such as those that GYROS work with, where sporadic working hours and informal renting arrangements are common.
Given this, it is more likely that they will have PS extended (automatically) for a further two years, which will mean an extension in the hardship of many vulnerable individuals and families because, as the Home Office's own literature says, 'it's easier to prove your right to live in the UK permanently if you have settled status'.
By Catherine Barnard, Senior Fellow, UK in a Changing Europe, and Fiona Costello, Research Associate, University of Cambridge.