What the May local elections told us
The comfortable re-election of metro mayors Andy Street (in the West Midlands) and Ben Houchen (in the Tees Valley), and the stunning victory secured in the Hartlepool by-election, have cemented the Conservative Party's political hold over large parts of non-metropolitan England.
These results represent the latest staging point in a significant transformation of the social and geographical basis of its electoral coalition – further manifestations of a trend that precedes the Tory victories in the northern 'Red Wall' seats at the December 2019 general election.
Much commentary links these results to the transformational political impact of Brexit, and some point to the on-going impact of a realignment of values in different parts of the electorate. However, attention should also be paid to the policy offer which the Conservative Party made to the residents of these areas.
Its campaigns in all these contests centred around plans for new investment and more jobs – and, in Houchen's case, trumpeted his achievements on both scores – and new resources were promised to places that have, in different respects and to varying extents, come to feel neglected by central government.
Given its close relationship to the party's political interests, the idea of 'levelling up' looks set to grow in importance as a focus for government policy – hence the prominence it was afforded in the Queen's Speech. It has been widely observed that this elusive idea is open to an array of different interpretations, and it will surely need clearer definition if it is to provide the basis for a meaningful programme in government.
There is a lingering concern in political circles that the term itself is too vapid to resonate with the wider public. Yet, as the UK Government begins to put meat on the bones of this idea, a debate about what the goals of levelling up actually should be, and what the best tools to deliver them are, will become much more salient in Westminster and Whitehall.
The levelling up idea enables the Government to signal how it intends to tackle a new 'geography of discontent': a deep-seated pessimism about the fortunes of places that feel 'forgotten about' by government and other public authorities, and a growing disenchantment with the priorities of mainstream politics.
Research suggests that similar dynamics are discernible in other countries as well, especially where there is a marked divergence between high growth regions and less successful counterparts, and that there is a high probability that such feelings are more likely to take root in rural areas, towns, and urban peripheries.
In this sense, levelling up is the local version of a much broader phenomenon – the effort by governments of different political shades to devise new policy approaches, or reheat old ones, in the face of stubbornly enduring geographical inequalities, many of which involve diverting investment and resources to places locked out of the circuits of economic growth.
For the UK Government, there are lessons to be learned from analogous initiatives like the Cœur de Ville programme of town centre regeneration that President Macron has developed in France since 2017.
How can levelling up be best achieved? 
If levelling up is to be a meaningful response to a widely held feeling that government has neglected the interests of regions outside London, the UK Government will need to figure out which are the main causes of these feelings of discontent. Among a number of different factors, some research highlights the particular impact that the decline or loss of a cultural institution, community resource or even a high-profile retail outlet can have on local feelings about an area's fortunes.
Some recent surveys also indicate that residents of economically struggling places tend to see the quality and decline of community-level provision as a first-order concern, and are often keener on the idea of directing public resources to sports and leisure facilities and centres for young people than the kinds of large-scale transport-based infrastructure projects which tend to find favour in governments.
For example, in Morriston – a post-industrial town just outside Swansea – a recent survey of local people revealed widespread grievances stemming from the deterioration of local amenities over the last decade and an equally pervasive desire for investment in community-level infrastructure, especially in facilities for young people such as youth centres and skate parks.
"As the UK Government begins to put meat on the bones of this idea, a debate about what the goals of levelling up actually should be, and what the best tools to deliver them are, will become much more salient in Westminster and Whitehall."
There is a striking divergence between these sentiments and the focus of much of the policy thinking associated with levelling up, which is typically framed in terms of the need for major improvements to physical infrastructure and policies to boost regional productivity.
One dilemma for the Government is whether it is able and willing to divert resources to the social renewal of many poorer towns and communities when it is simultaneously seeking to deal with the massive additional expenditure caused by the pandemic.
Another is whether Conservative politicians will come to see greater state intervention and involvement in regional economic policy, and micro-level interventions and investments in left-behind places, as feasible and ideologically desirable. The appointment of Neil O'Brien MP as the Prime Minister's chief adviser on the levelling up agenda suggests an awareness of the need for clarity on these issues.
The scale of the policy challenge which the Government is setting itself should be clear to anyone who takes a cursory glance at the chequered history of the British state's repeated, and often unsuccessful, attempts to tackle geographical inequalities. This broad area of policy has been characterised by oscillating views about two key issues.
These are, first, whether restructuring and managed decline are unavoidable outcomes of market forces, as many have assumed, or if the UK state needs to play a more active and strategic role in co-ordinating economic activity and promoting greater innovation; and, second, the shifting understanding of what the geographical objects of potential intervention should be.
In the years before and after the Second World War, struggling industrial areas drew considerable government attention. By the late 1970s and 1980s, deprived parts of inner cities began to preoccupy different administrations. Since Brexit, it is 'left behind towns' – a category that still awaits clear, official definition – which are prominent in policy discourse, while some commentators maintain that all three of these kinds of place should be given consideration.
There is a fairly broad consensus that the success of previous policies aimed at addressing inequalities in regional productivity was partial and patchy at best. After 1997, New Labour established a set of Regional Development Agencies in order to bring local business elites together with policy-makers and local interests.
But their impact was fairly limited, and the attempt to turn these opaque bodies into a tier of regional government came to an early, juddering halt following the referendum on regional devolution held in the North East of England in 2004. The New Labour Governments also developed various local regeneration initiatives, including neighbourhood-level investments through its New Deal for Communities programme.
This involved selecting a number of areas – each with an average population of around 10,000 people – for targeted investment over a number of years. This initiative provides probably the most direct comparator for some aspects of the current levelling up agenda.
There are, broadly speaking, three ways of thinking about levelling up circulating in the Government now. The first of these reflects the enduring preoccupation in parts of the centre (especially the Treasury) with promoting economic growth and boosting productivity through physical infrastructure projects – primarily transport and broadband – designed to improve connectivity between different parts of the country. This perspective has wide support, bolstered by research stressing the need to ensure that people are brought to the places – usually large urban centres – where most jobs are located.
This focus on connectivity and hard infrastructure emerged as a consistent policy idea in the Coalition Government, after 2010, which diverted considerable resources to projects like HS2 and the Northern Powerhouse, even as it introduced significant retrenchment in other areas of public expenditure – an approach that led to large reductions in the funding available to many local authorities, and resulted in the depletion of community amenities and provision in many places.
This broad focus encompasses projects such as the rollout of full-fibre broadband, the expansion of the high-speed rail network and other central initiatives to improve transport connectivity, such as the Oxford-Cambridge Arc.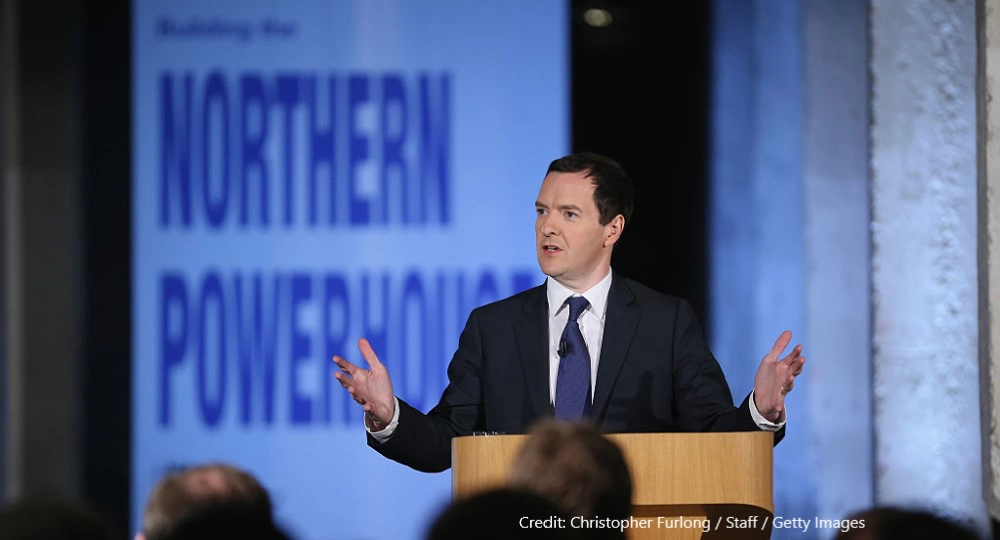 But two other ideas are also starting to make themselves heard. First, some influential figures, like O'Brien, have begun to argue that developing new industrial clusters outside London and the South East is imperative, suggesting that the UK needs to look elsewhere to learn from the mission-focused industrial strategies pursued by innovative states like Singapore. Proponents of regional innovation are often critical of the UK's institutional and strategic shortcomings, with some commentators stressing the structural consequences of the lack of devolution to the English regions.
While the language of industrial strategy – which was a central focus during Theresa May's Government – has all but disappeared in the current administration, there are still plenty of advocates for levelling up who see the primary challenge facing the UK as the need to tackle the deep-rooted problems of lagging regional productivity, and argue for a strategic focus on innovation strategy as the key to tackling the entrenched problems of geographical economic divergence in Britain.
And, second, there is growing support for the idea that the Government needs to rebuild the facilities, amenities, public spaces and built environment of 'forgotten about' places as a matter of priority. This perspective argues that the Government needs to act to restore or protect the amenities and facilities that underpin community life in many of Britain's poorer towns, and should take steps to ensure that local communities are empowered to find the solutions to the challenges facing their own places.
This is a view championed by Danny Kruger MP in his recent report Levelling up our communities, in which he set out recommendations for how the Government can support communities to sustain the public spirit, social solidarity and local innovation they have shown during the pandemic. This perspective is not advanced as an alternative to the idea of levelling up being based upon economic growth and more jobs, but it does lead some to question the heavy emphasis on capital expenditure funding.
This focus on the importance of locally rooted civil society and the infrastructure that sustains community life has an important lineage in Conservative politics. Figures like Lord (Michael) Heseltine have long argued that the Government, along with business, has a key role in revitalising decaying inner cities. This perspective is boosted by the political argument that government needs to show voters in 'Red Wall' seats that it takes these issues seriously and will, by the next election, have solid achievements to present to the electorate.
Being able to demonstrate impact in a relatively short time-frame is likely to be immensely challenging, but the kinds of localised interventions advocated by some of these community-focused campaigners (including the many organisations who support a Community Wealth Fund) would cost less and may well have a faster impact than major infrastructure developments.
The economic, social and civic value of community infrastructure
In a new report we put to the test some of the main claims advanced by those making the case for community infrastructure, and conclude that – even if we set aside some of the more exaggerated and weakly evidenced claims made on its behalf – there are good reasons to see this overall perspective as credible. A sustained programme of social infrastructure investment and support in some of Britain's struggling towns is a necessary step in order for the full gains of improved connectivity and better infrastructure to be realised.
Rebuilding some of the decayed and endangered institutions of community life – be they local pubs, community centres or libraries – after more than a decade of austerity is an immense task, and would require better, amalgamated data about, and a deeper awareness of, the contextual challenges which different places face. But it should also be seen as integral to – not a distraction from – a broader policy programme that seeks to tackle the economic challenges facing poorer regions in Britain.
"One dilemma for the Government is whether it is able and willing to divert resources to the social renewal of many poorer towns and communities when it is simultaneously seeking to deal with the massive additional expenditure caused by the pandemic."
Deriving causal inferences about the economic benefits of improved social infrastructure from the disparate research and evidence on this topic is a difficult undertaking, but a number of promising, indirect relationships are apparent – particularly in relation to the goals of improving high streets, investing in the community infrastructure workforce and enhancing local skills.
Improvements to high streets, in particular, are very likely to generate significant economic benefits for an area. Town centres face a powerful cocktail of threats – accelerated, though not caused, by the pandemic – following the rise of online shopping and the proliferation of out-of-town retail parks.
A number of studies suggest that if town centres are able to supply a blend of retail, commercial and social opportunities, they are more likely to withstand short-term shocks, and to sustain greater economic activity in the longer term.
Some research shows that high streets are valued by local residents as much for their contribution to the social character and liveability of a place as for their commercial implications. As the appeal of in-person shopping diminishes in the face of online retail, the libraries, cafés and pubs dotted around town centres may well be as important as retail outlets in attracting people to high streets, and greater footfall has discernible benefits for local businesses.
These spaces help to draw people to town centres and encourage them to stay for longer and spend more while they are there. Moreover, shifts in post-Covid-19 working patterns may result in in a greater share of the workforce working remotely, and some employees may want to relocate to more affordable towns. And the social and cultural facilities in high streets may well be key points of attraction for those considering this option.
Equally, the workforce that is involved in social infrastructure-related roles – ranging from those employed in the hospitality sector to publicly funded employees in museums, sports clubs, and nurseries – is itself considerable, playing a key role in the local economies of many towns.
There were approximately 2.28 million jobs in these areas in 2019. In some towns, like Skegness and Llandudno, sectors that enable social interaction are the largest sources of employment. A disproportionate number of these jobs are filled by young people: approximately 700,000 people aged 16-24 are currently employed in them.
And, some of these sectors – for instance the arts, culture and sport – are more likely to display a sense of social purpose in their hiring practices, and currently provide a disproportionate number of openings for ex-offenders, the disabled, or people with autism. A social infrastructure strategy needs to encompass not just the physical spaces and community amenities in a place, but the people who work in them and who are integral to the value they create.
Local skills can also be enhanced through community-based institutions like libraries, language schools, museums, theatres and galleries. Libraries provide invaluable access to books and internet services, and are of particular importance to children from lower income backgrounds. They provide study space and specific forms of skills instruction, which residents in poorer places may otherwise lack.
A survey of 17,089 school children aged 8-16 by the National Literacy Trust found that 38% of pupils believed that visiting the library helped them perform better at school. And in the US, Gilpin et al. have shown that boosting capital investment in public libraries leads to higher reading test scores among children in nearby school districts.
"In some towns, like Skegness and Llandudno, sectors that enable social interaction are the largest sources of employment. A disproportionate number of these jobs are filled by young people: approximately 700,000 people aged 16-24 are currently employed in them."
More support for such facilities is likely to yield indirect economic benefits, and promote a number of less tangible, but still vital, social goods. One of these is greater community resilience. The pandemic has very clearly demonstrated that the capacity to withstand, and recover from, major shocks is unevenly distributed across different places. This variation is the result of a complex mix of factors, but the unequal quality of, and access to, good community-level infrastructure is an important, and unheralded, contributing dynamic.
Our analysis shows that the number of mutual aid groups that sprang up in towns across Britain during the pandemic is positively correlated with levels of community provision. Whereas Tavistock in Devon had well above-average levels of social infrastructure and the highest density of mutual aid groups in the country, Wideopen, a small town in North Tyneside with less communal infrastructure than any other town in Britain, did not report the emergence of a single mutual aid group during the pandemic.
This pattern echoes the findings of a well-established body of international research which indicates that people who live in places that provide better opportunities for social interaction are more able to sustain meaningful relationships with friends and neighbours. And, as the pandemic has laid bare, these networks can provide important sources of mutual support and local knowledge, and constitute a seedbed for what has in recent years become something of an elixir for some policy-makers – greater social capital.
There are other social benefits to be realised from improvements in community provision, particularly in terms of public health. The availability of, and access to, parks and other kinds of green space is linked by various research studies to lower rates of obesity, coronary heart disease and diabetes. People who live near them are less likely to experience stress, anxiety and depression.
Furthermore, the mental health benefits of better access to decent social infrastructure are also demonstrable. Our analysis shows that communities with more social spaces within them have fewer older people who are at risk of loneliness.
Good community infrastructure can also bring people together across some of the most debilitating divides of contemporary life. Sports clubs, community centres and pubs are all places where individuals from different generations, social classes, or ethnicities come together and where they can build greater social trust. In places where employment opportunities are limited, or where many residents are retired, this characteristic acquires particular value.
And, beyond these fairly well-documented gains, better community amenities may also provide an important way of addressing residents' deepening pessimism about the fortunes of towns that are struggling. A disparate body of research suggests an important linkage between restoring, or indeed saving, iconic local institutions and buildings, on the one hand, and people's sense of pride in, and feelings about, where they live, on the other.
Some studies suggest that when a town loses a well-known high street brand, a cinema, or even a grocery shop, the community's sense of how well their town is doing is negatively affected, and the share of the population which feels politically disaffected, or which withdraws from political participation altogether, increases.
One of the key challenges in this area is that the value of community-based institutions, like a town's football team or a popular cinema, is often only recognised when they face mortal threat.
Hence, it was only when Bury FC faced being plunged into administration in 2002, and then again in 2018, that its significance to the whole community, and not just local fans, became apparent. In addition to establishing an emergency fund for such situations, there is a real need for local stakeholders to compile more accurate and meaningful databases of community assets.
Conversely, when a town's amenities are well maintained, accessible and safe, they can help sustain the pride that local people feel for their place of residence. Historic buildings and other heritage sites have an important role to play in this regard, and communities will naturally look to these when seeking to revitalise a sense of local pride and belonging.
In Derby, a new Museum of Making will soon open on the site of the world's oldest factory, showcasing its rich and complex history as a once-great industrial city while also providing a functioning workshop for local businesses to manufacture product prototypes. And, towns like Boston, in Lincolnshire, and Ramsey, Cambridgeshire, have invested in local heritage assets in order to revitalise the local area and attract in-comers, creating opportunities for local businesses as a result.
Who should be doing the levelling up? Whitehall or the local community?
While there is a swelling chorus of voices advocating the need to repair the social fabric of left-behind places, there is as yet no established strategic framework which integrates ideas for restoring or saving the internal life of communities with the entrenched focus on making it easier for people to get to jobs that are located in nearby urban centres. And yet, a programme of social renovation is also key to the economic prospects, and quality of life, of many different towns.
Yet, the default approach of central government is to favour investments in physical infrastructure and connectivity, so that people can more easily access large urban centres. In relation to the various UK Government funds that are directed to the goal of levelling up (some of which are allocated for England and some for the UK as a whole) it has been estimated that £163 billion of the total £172 billion that has so far been committed, has been directed to physical infrastructure projects.
The remaining £9 billion is earmarked for investments locally that may incorporate community-level infrastructure but are also likely to reflect the focus upon connecting hinterlands to cities, and may well end up being steered towards this latter goal. These include the Levelling Up Fund (£4.8 billion), the Towns Fund (£3.6 billion), the Community Renewal Fund (£0.22 billion) and the Community Ownership Fund (£0.15 billion).
This ingrained bias is, in part, reflective of the enduring hold of conventional metrics for assessing 'value for money' in government spending. But it also speaks to deeper, ideologically-rooted dilemmas for many Conservatives: whether it is the state's responsibility to look after the facilities and spaces that sustain community life in different localities, and how it can, in fiscal terms, afford these kinds of investment.
"The pandemic has very clearly demonstrated that the capacity to withstand, and recover from, major shocks is unevenly distributed across different places."
Whether the case for social infrastructure gains ground will ultimately depend on which actors and institutions in government win the argument about how this elusive ambition gets defined. It will depend too on whether the Johnson Government continues to hold to the view that such an ambitious programme can be credibly designed, overseen and monitored from a handful of offices in the heart of London – with local councils and devolved governments corralled as delivery vehicles for the centre's ambitions.
Any serious effort to prosecute the goal of levelling up is indissolubly tied to the argument for a more viable model of devolution across England, since whether Whitehall has the capacity to design and oversee interventions designed to impact upon a plethora of regions and localities is undoubtedly open to question. The recent announcement that a planned paper on devolution in England will be replaced with one on levelling up suggests that the centralist approach remains entrenched.
This kind of top-down plan for place-based intervention, based upon bilateral negotiations with local areas, runs the risk of enforcing the priorities and orthodoxies of the centre rather than engaging and addressing the different needs of local communities themselves. It also increases the chance that funds will end up being inefficiently allocated and areas prioritised for nakedly political reasons, rather than as a reflection of objective definitions of need – a criticism that has been made of the way that both the Levelling Up and Towns Funds have been distributed.
What is the right balance between centre and locality? Will the Government accept the case for a major programme of community investment for social – as well as monetary – reasons? Will the Conservative Party be willing to support a programme of domestic reform that requires an expansion of existing forms of public intervention and investment?
These are among the difficult questions which the levelling up agenda has already generated. Hard as each of these questions may be, there is good reason to think that without a programme of infrastructure renovation and development which commits to restoring the 'social plumbing' of many struggling towns, levelling up will come to look like a hollow promise rather than a statement of meaningful intent.
By Professor Michael Kenny, Inaugural Director, and Thomas Kelsey, Research Assistant, both Bennett Institute for Public Policy at the University of Cambridge.