British Future's new report out this week, based on new data from Ipsos MORI's immigration tracker survey, finds public attitudes to immigration are both more positive towards immigration and less interested in reducing numbers than in the past. The new points-based system is coming under pressure with labour and skills shortages emerging in key sectors.
The case for major change to the new immigration system is unclear, since the current labour market is far from normal. However, the survey suggests the public would give pragmatic support for relaxations to fill skills and labour gaps, and within an immigration system that provides control.
We're moving away from a period in which numbers were dominant in the immigration debate, and one in which principles of control and fairness are more dominant: people are almost twice as likely to prefer an immigration system that prioritises control, whether or not this reduces numbers (44%), over one that reduces migration to the UK (24%).
The growing warmth in public attitudes to immigration isn't a blip: they are now significantly different to when post-Brexit immigration policy was drawn up with the explicit intention of securing public support. While 46% are now broadly positive towards immigration and 28% are broadly negative, this is almost an exact reversal of responses in 2015.
But it is public attitudes to immigration to work which seem to have changed most. The survey finds pragmatic support from the public for a range of immigration measures which might help to meet the needs of businesses and services.
The strongest support is for overseas recruitment to be allowed for positions in key services (77%). Two-thirds would support migration for temporary seasonal work (67%). Broader measures are also supported, with 65% agreeing that overseas recruitment should be allowed for any job where there are shortages, and 55% supporting recruitment to lower skilled jobs that are harder to fill from within the UK.
Migration for work: public support for overseas recruitment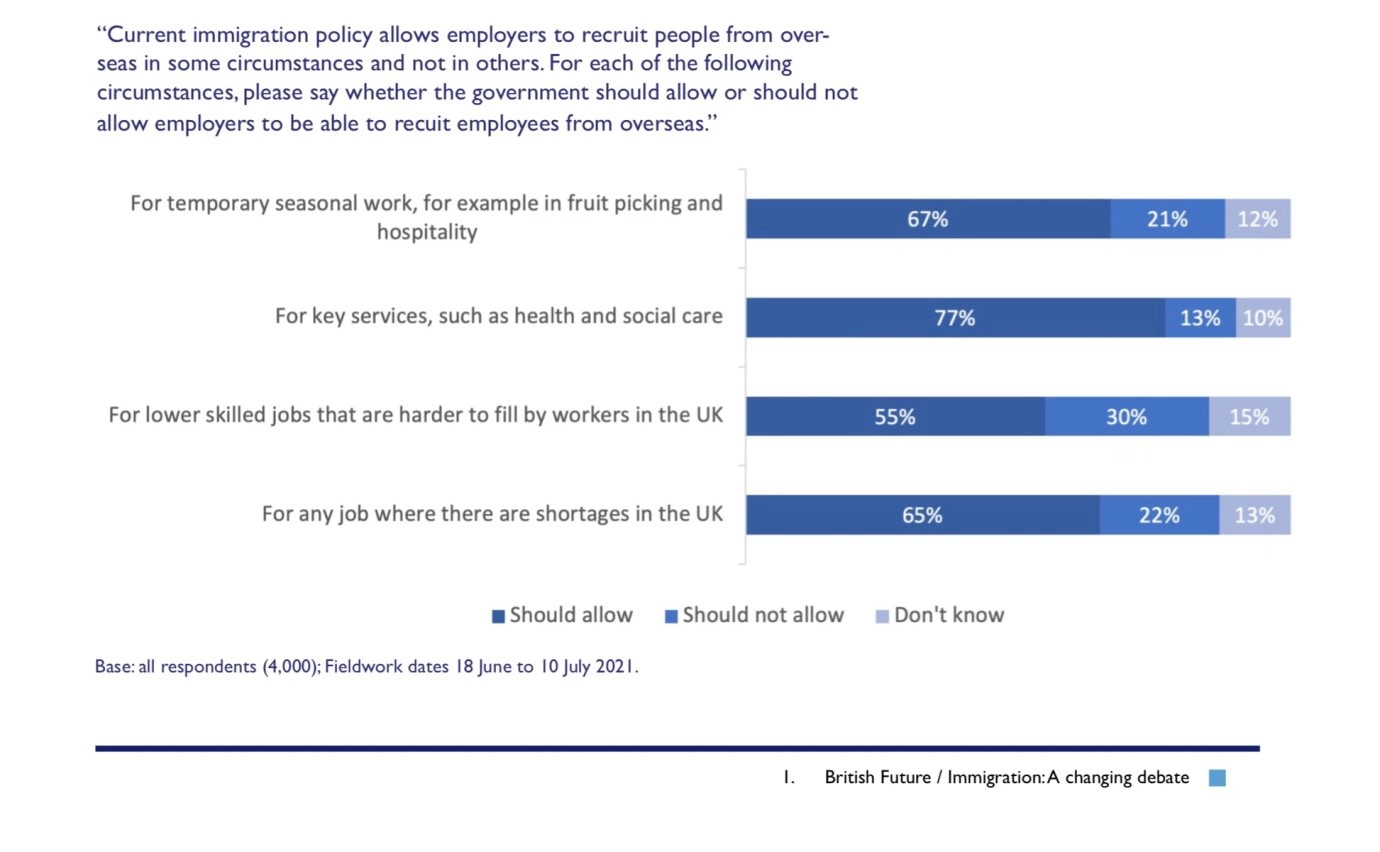 There are, of course, differences by political and Leave/Remain allegiance, as well as by age and region. But while holding more sceptical attitudes to immigration, the majority of Conservative voters (58%) would still support recruitment to any job where there is a shortage, and 45% to lower skilled jobs that are hard to recruit by workers in the UK.
We can't be entirely sure of the reasons for the general shift in attitudes and for the strong expression of support for immigration for work. One factor is Covid-19, which led to an outpouring of appreciation for frontline workers, through media coverage and public events such as 'Clap for Carers'. The strong migrant presence in sectors such as social care, retail and delivery work will not have gone unnoticed.
However, the trend was moving in a positive direction before coronavirus struck. In March 2019 half of tracker respondents who said they had become more positive about immigration said it was because discussions over the past few years have highlighted how much immigrants contribute to the UK. Around a quarter said it was because free movement had ended.
Shifting public attitudes to immigration for work are illuminated in more detail by responses to some specific questions. Previous surveys have asked which types of migrant – high or low skilled – should be allowed to come to the UK following Brexit.
In this survey we asked a different question – the circumstances in which employers should be allowed to recruit from overseas. We did this to measure public support for the types of relaxation in policy that the government will be under most pressure to make.
Our question on the circumstances under which immigration for work should be allowed carries the assumption that an employer will be hiring migrants directly, rather than through making their own way to the UK.
Many people will not have been aware that, even under free movement, many EU migrants came with a job offer. Some feared that low skilled migrants were more likely to be unemployed, work in the grey economy or claim benefits: low skilled was sometimes seen as low quality.
The question we asked about lower skilled recruitment also specifically describes the circumstance as one where jobs are 'harder to fill from within the UK'. Again, this creates a rationale for the entry of low skilled workers: one in which they are needed.
While the first months of the immigration system saw pressure confined largely to health and social care, labour shortages are now reported by employers across sectors which have long relied on migrants, in particular road haulage and hospitality.
Employer bodies are calling for immediate flexibilities. Our findings indicate that these would be supported by the public. Does this mean that they should be put in place now, or at some future date?
The government has responded to these pleas with advice for employers to 'grow their own' through training and higher wages. For employers who both recruit migrants and invest in training, this is a false juxtaposition. However, there is no doubt that British workers are deterred from jobs in sectors such as hospitality and social care because of lack of prospects and progression routes, as well as pay. While initiatives like Kickstart and apprenticeships might help, the transition to a higher skills economy will take time.
The labour market is far from normal, and the case for major changes to the new immigration system is unclear: more than one million people are still furloughed and an estimated 2.5 million EU migrants, with settled status, or pre-settled status, are living outside of the UK: some may be planning to return to Britain once rates of Covid-19 decline.
Rather than wait for this to happen, efforts should be made to encourage these mobile workers to return, and to be allowed to complete their settled status where not already granted.
Of course, some furloughed workers may leave the labour market and returning migrants may choose not to work in sectors with the worst recruitment problems. If combined with an economic upsurge, labour shortages might then become wider and more persistent in the coming months, requiring longer term measures.
Reducing the skills threshold to allow employers to recruit below intermediate skill level would be most effective in addressing recruitment problems across shortage sectors and occupations. But it's also the change the government will be least inclined to make. Our survey findings suggest that, delivered within a narrative of control, it would gain more support than the government expects.
By Heather Rolfe, Director of Research and Relationships at the think tank British Future.