In June, the six year anniversary of the UK's decision to leave the EU came and went. The landmark received little fanfare. Yet, given the amount of time that has now passed since June 2016, it did prompt some to ask what benefits the UK has seen from Brexit to date.
There were two responses that made headlines, for different reasons. First, David Davis told Andrew Neil that we may have to wait a decade before we see significant benefits from Brexit. Second, when asked on CNN, Boris Johnson pointed to the contested idea that the UK's ability to run its own Covid vaccination programme as the most significant benefit to date of leaving the EU.
With Redfield & Wilton Strategies, as part of our regular Brexit tracker, we asked about a range of issues to see which were most important to voters in maximising the opportunities of Brexit. We were also able to look at whether leaving the EU was perceived to have made a difference so far – and, if so, whether the decision has changed the UK for better or worse.
To test what voters think were the possible positives from Brexit, we listed a range of policy opportunities possible as a result of leaving the EU. Of the ten 'Brexit opportunities', we asked respondents to choose their top three most important. This meant we could understand whether – when asked to think about the positives from Brexit – those who said they would rather stay out highlighted the same things as those who now want us to rejoin.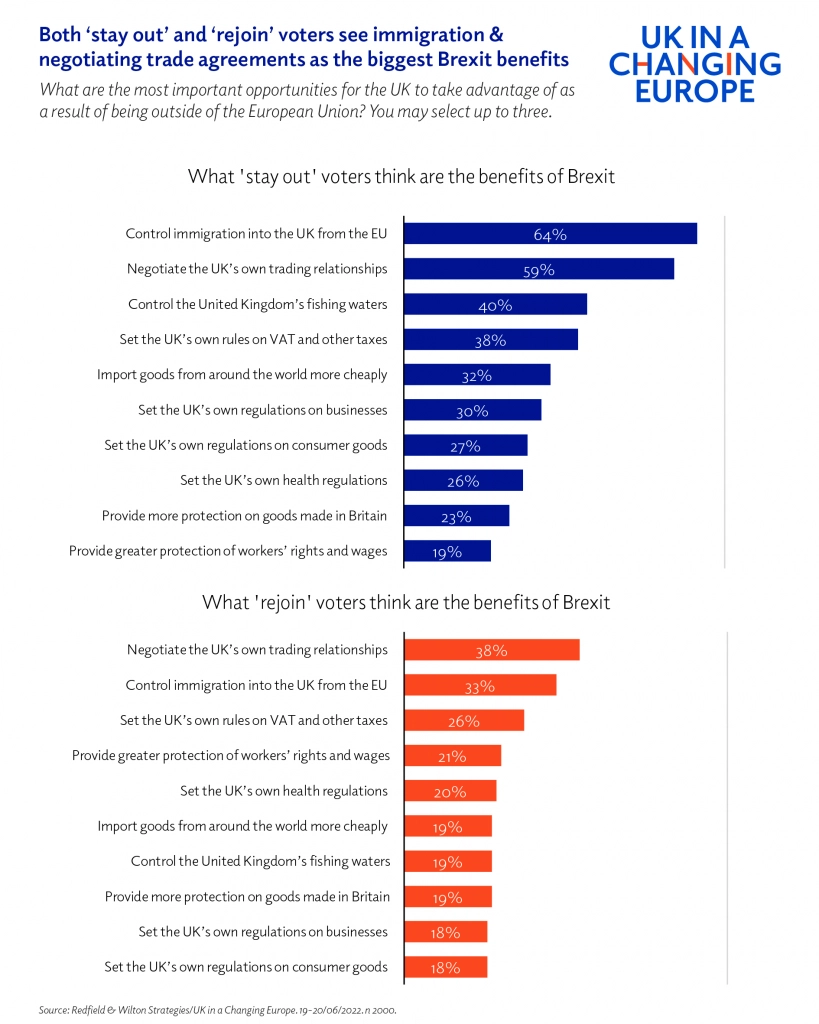 What we found are some clear similarities that cross the Brexit divide: the totemic issues of immigration, and the ability to negotiate independent trade agreements, are seen as the top two most important Brexit opportunities by those that want to stay out of the EU and those that would ideally rejoin. Equally, the ability to set different VAT rates provided common ground.
There are also some important differences: control of the UK's fishing waters sits just below immigration and trade in the order of priorities for those who think we should stay out of the EU. It is not as big a priority for those who would prefer to rejoin. And, unsurprisingly, many more (1 in 5) of those who wish to  rejoin did not see any of these as potential benefits compared with fewer than 1 in 20 of those who want to stay out.
While immigration is still important, there are a range of policy areas that have been highlighted at various points as important effects from Brexit. Some of these, like the vaccination programme, have been touted as Brexit benefits. Others, like impacts on the costs of living, have been claimed as negative repercussions from Brexit.
We asked respondents whether a range of issues had got 'better' or 'worse' as a result of Brexit.
Looking at the data, it is easy to see why the Prime Minister might have looked to the UK's vaccination scheme to provide him with vindication for his campaign to leave the EU. The vaccination programme is, after all, the sole area where both 'rejoiners' and 'stay out-ers' both say that, on balance, Brexit has had a positive impact.
On the other hand, it is the fronts on which the government is suffering most where both Rejoiners and Stay Outers think things have got worse as a consequence of Brexit. This suggests that the government is vulnerable to a critique that Brexit has exacerbated the issues of low wages and the high cost of living.
Indeed, it is on economic issues – the effect on the cost of living, on UK businesses ability to export and UK wages – where there is most agreement across these two groups. Unlike the issue of sovereignty – which those who want to stay out think we have regained, and those who want to rejoin think we have lost – the economics of Brexit bridge the Leave/Remain divide.
On Brexit, we have spent six years disagreeing. Yet here, we have found two areas – the economic effects of Brexit, and the vaccination programme – which bridge the Brexit divide. Perhaps the key question is this: are voters more likely to be worried about their wallets, or grateful for their vaccine, when it comes to the next general election.
By Dr Alan Wager, Research Associate, and Paula Surridge, Deputy Director, UK in a Changing Europe.
You can access the data tables for the latest Redfield & Wilton Strategies/UK in a Changing Europe Brexit Tracker here.