Sophie Stowers analyses the latest Redfield and Wilton Strategies/UK in a Changing Europe Brexit tracker poll, highlighting the five key trends across public attitudes towards Brexit from the first few months of 2023.
It has certainly been a busy few weeks when it comes to Brexit. The unveiling of the Windsor Framework, the scrapping of the Northern Ireland Protocol Bill and the continued, albeit glacial, progress of the Retained EU Law Bill through Parliament have given those in Westminster plenty to get on with. But what are the public's views on the future of the UK-EU relationship?
Using our bimonthly Brexit tracker, which looks at public attitudes across all aspects of Brexit, there are five key findings from the first few months of 2023.
Northern Ireland
This month's polling was conducted before Rishi Sunak and Ursula Von der Leyen unveiled the Windsor Framework. However, our survey allows us to tap into public attitudes concerning the regulatory barriers facing businesses who trade between GB and NI, and the remit of the European Court of Justice. Our data allows us to surmise that, as a whole, the public may be pretty supportive of the deal Sunak has reached with the EU.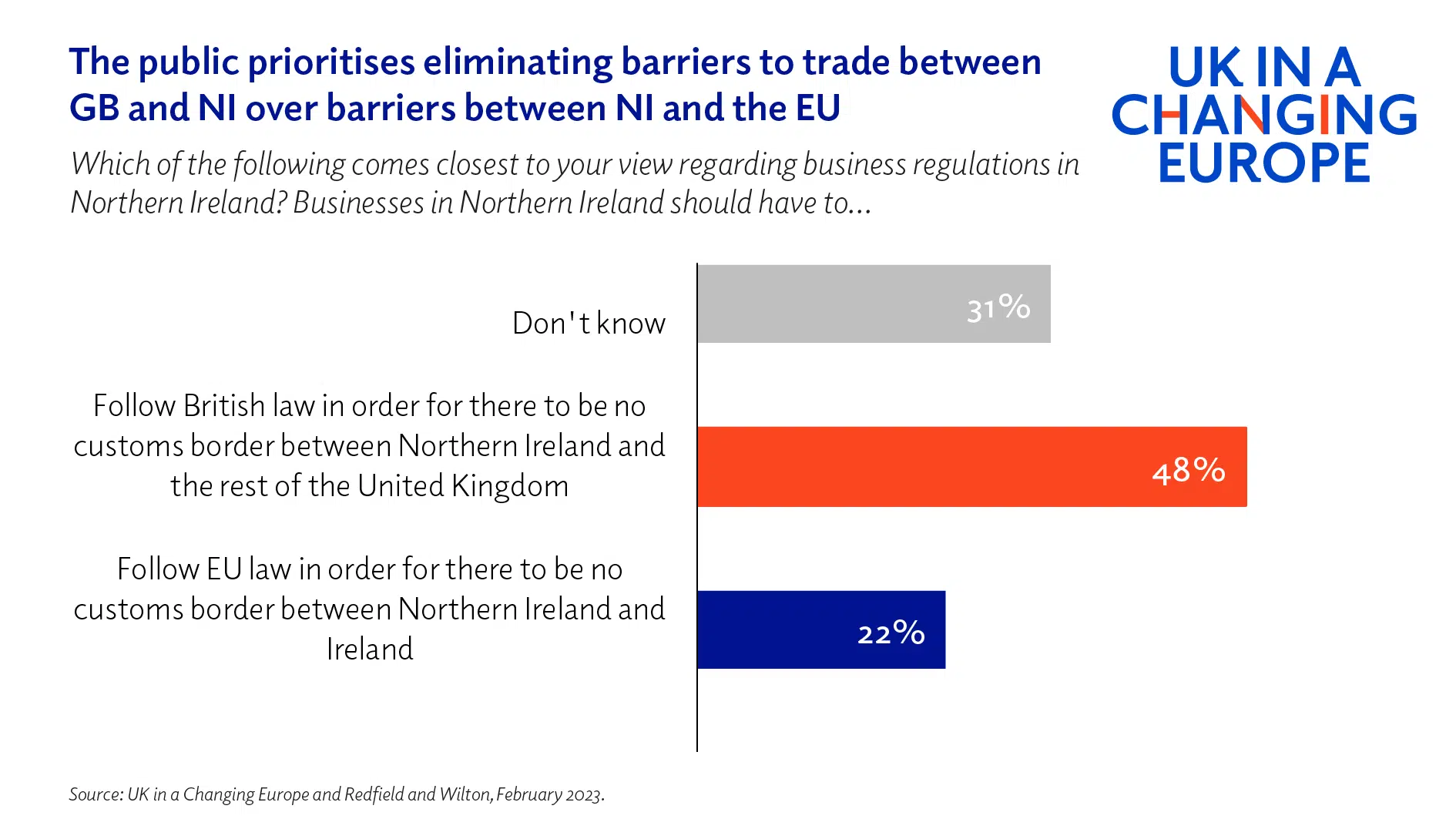 Firstly, voters are twice as likely to prioritise the easing of trade between Great Britain and Northern Ireland as between Northern Ireland and the European Union. The Windsor Framework does indeed put in place measures which make it easier to export products from GB and remain in Northern Ireland by introducing a green and red lane system, reducing checks and paperwork.
When it comes to the European Court of Justice, while the new deal does little to reduce its role (other than reducing the number of EU laws that will apply in Northern Ireland), this does not seem to be a major concern for the public.  We asked our respondents if they would be willing to tolerate a role for the ECJ in the UK-EU relationship in exchange for reduced checks on goods set to remain in Northern Ireland.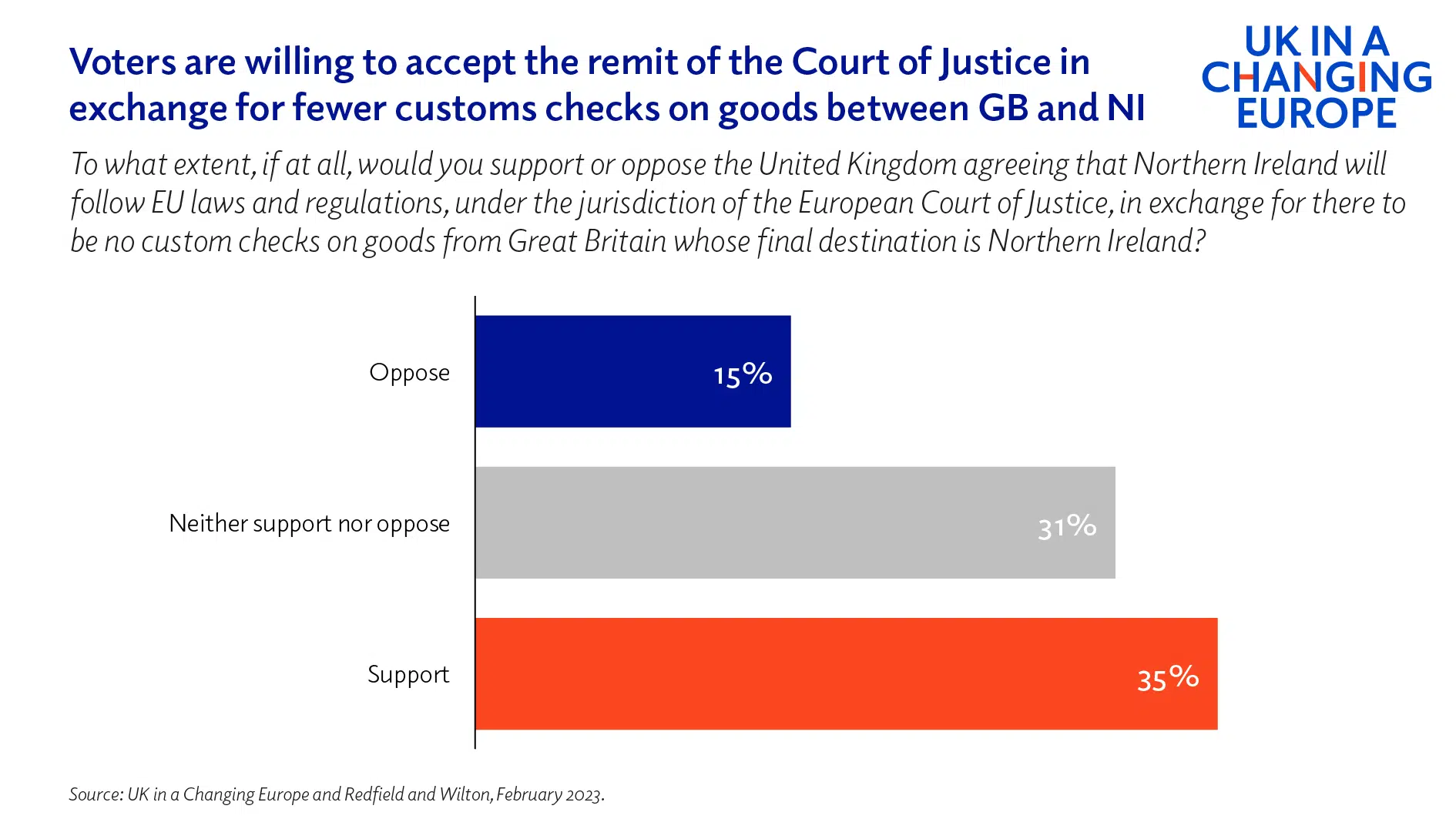 The majority of voters either support or are neutral towards ECJ  oversight, if this allows fewer checks on goods travelling between GB and NI. This suggests that the public accepts that there is a trade-off between sovereignty and easement of trade, which will be music to the Prime Minister's ears.
Support for rejoin and another referendum
February's data shows a slight increase in the number of people who said that they would now vote to re-join the EU if another referendum were to take place. Though some of this increase will be down to sampling variation, it does suggest that we are seeing a gradual increase in the popularity of EU membership amongst voters. The number of 2016 Leave voters who said they would still vote Leave in a second referendum has dropped slightly again to 77%, from 86% a year previously.
However, when asked about re-opening the Brexit question, a large portion of the population (44%) consider the issue of EU membership to be settled. This could suggest that the popularity of 'rejoin' in a hypothetical referendum should not be interpreted as support for another vote.
Immigration
Over the last year, the public has become more likely to say that immigration into the UK from both inside and outside the EU has increased as a result of Brexit. In February we saw a slight drop in this figure, but voters are still more likely to say that immigration into the UK has not reduced as a result of Brexit.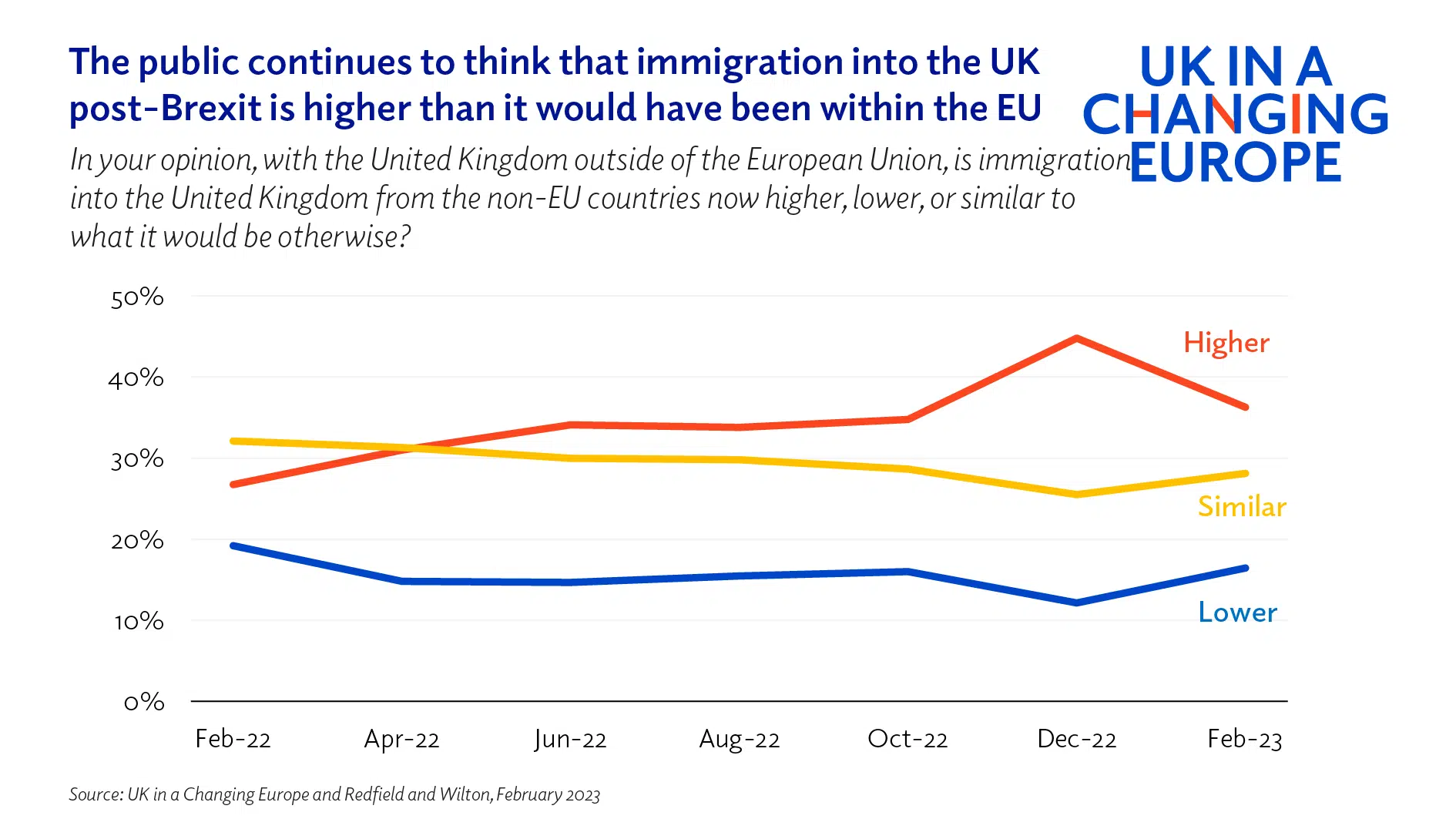 Voters are also more likely (42%) to think that illegal immigration into the United Kingdom is higher than it would have been if the UK has stayed in the EU, including 51% of 2016 Leave voters. The government has, after all failed to agree an alternative to the Dublin Convention with the EU, which would allow the UK to ask other EU countries to 'take back' asylum seekers if they had entered via 'safe countries' such as France or Italy.
Post-Brexit priorities
When asked what opportunities the UK should take advantage of post-Brexit, voters prioritise the ability to control immigration from the EU into Britain. This is followed by the UK's ability to sign bilateral trade deals and the ability to redistribute money which would otherwise have been contributed to the EU budget.
Interestingly, we also find that voters are more likely to believe the government has only made use of its ability to diverge from EU law and regulations to a minimal extent, regardless of whether they voted Leave or Remain in 2016. 44% of voters think that the government has either not made use of this ability at all, or only to a limited extent.
The effects of Brexit
The public is split on whether enough time has passed to judge the effect of Brexit: 44% of voters say we are now able to judge the consequences of leaving the EU, compared to 39% who disagree. Interestingly, however, we do see that voters are still more likely to say that the war in Ukraine is having a more tangible impact on their daily lives than Brexit, as they did in December. Before this, a majority of voters would say Covid (or neither Brexit or Covid) was having the most consequential impact day-to-day.
However, 38% of voters say that they have noticed the impact of Brexit 'a fair amount' in the last two months, and 35% say that the overall impact of Brexit has been more noticeable than they had thought it would be.
This is particularly evident when we ask voters about economic issues: we find that a majority of voters (57%) say the impact of leaving the EU on the UK economy has been negative, including a third of 2016 voters. In addition, 38% of voters in February said that wages are lower as a result of Brexit, and over 60% say that cost of living is higher.
By Sophie Stowers, researcher, UK in a Changing Europe. 
You can download the February 2023 Brexit tracker data tables in full here.