In support of the Strikes (Minimum Service Levels) Bill, the Business Secretary, Grant Shapps, has said the legislation puts the UK in line with Europe. This piece considers whether the Bill would put the UK in line with Europe by comparing its position with 35 European countries, including all 27 EU member states. For an outline of what the Bill will change, see our explainer.
The government has said that the introduction of a minimum service level brings the UK 'in line with many other modern European nations, such as Spain, Italy, France and Ireland'. We have looked at the position in 35 European countries, including all EU member states, to ask if this is accurate (for a table of our findings see here).
Right to strike: the UK is not in line with Europe
In contrast to the UK, the majority (86%) of European countries protect the 'right to strike', either explicitly as a constitutional right (69%), or as interpreted by courts as an aspect of the right to freedom of association and right to peaceful assembly (17%). This has influenced how states view minimum service levels: for example, the Spanish Constitutional Court has held that because the right to strike is a fundamental right under the Spanish Constitution the scope of the minimum services must be interpreted restrictively.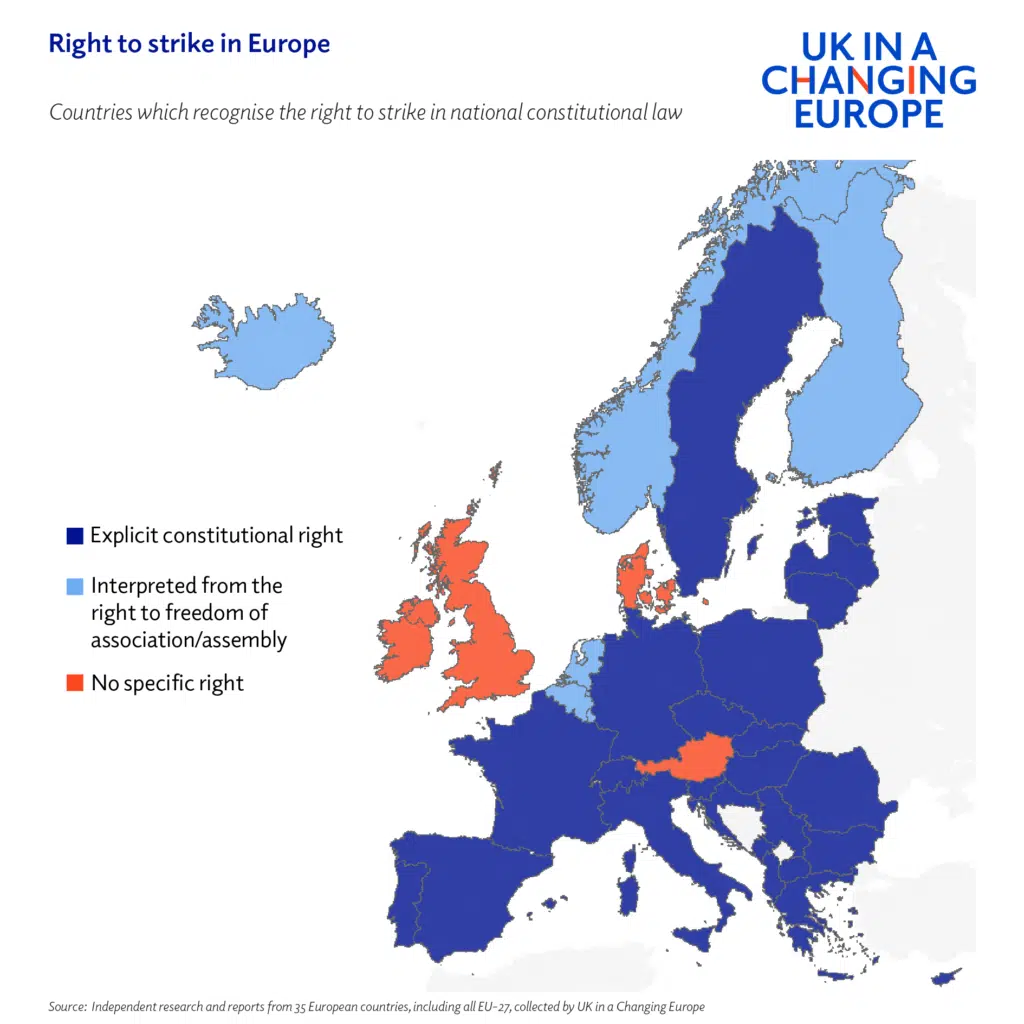 The UK is only one of five countries (or 14%) where there no specific right to strike in national constitutional law.
However, all countries examined are members of the Council of Europe, and so signatory to the European Convention on Human Rights. The case law of the European Court of Human Rights demonstrates that Article 11 ECHR can entail protection of the right to strike. This right is not absolute and can be restricted by law. Restrictions may be imposed on the right to strike of workers providing essential services to the population, but the state must justify its necessity.
Setting minimum service levels: the UK is not (yet) in line with Europe
The Business Secretary has claimed that 'Every other European country has some form of minimum safety in place.' However, this is not entirely accurate. Our research has shown 74% of European countries have legal provisions for minimum service levels in essential services during strike action.
Among the countries highlighted by the minister, Spain, France and Italy have provided for minimum service levels in essential services but Ireland has not. Ireland has not legislated for industrial action, and there is no law governing strikes. However, a code of practice, which is not legally binding, indicates that minimum service level in essential services should be set on the basis of cooperation between unions and employers, and, failing an agreement, and through the Labour Relations Commission.
Essential services: the Bill does not place the UK in line with Europe
Countries which have provided for minimum service levels have also indicated that these must be in 'essential services'. Essential services in the strict sense of the term have been defined by the International Labour Organization (ILO) as:
services provided by public servants exercising authority in the name of the state (such as the police or prison officers);
for services the interruption of which would endanger the life, personal safety or health of the whole or part of the population; and
in the event of an acute national emergency.
The sectors considered to be essential vary across countries. Typically, public health, transport, energy and water services are among the most common. In a minority of countries, strikes in essential services can be subject to a requirement of a minimum service level, but exactly which services are 'essential' are not identified in law and left to the discretion of government. The UK Bill does not require services to be essential, only to fall within one of the listed sectors.
How minimum service levels are set: the Bill does not place the UK in line with Europe
In 85% of European countries which have legislated for it, minimum service levels involve an agreement between trade unions and employers. An agreement between employer and trade union on minimum service levels can be a condition of a lawful strike (as in Hungary). In other cases, the minimum can be set by primary legislation (i.e. by parliament) but how this is achieved is left to agreement between trade unions and employers. The reasoning is that workers and employers are best placed to understand a minimum level of service, and how it may be achieved.
In some countries which have not legislated for minimum service levels, an agreement between trade union and employer can nevertheless – in practice – establish minimum service during strikes (as in Norway and Ireland).
In only four countries is the minimum service level set without an expectation of an agreement between the trade union and the employer: Romania, Serbia, France and Spain. In Romania, the minimum service level is set by legislation at one third of normal service level, although failure to comply is not sanctioned in practice. In Serbia, employers set minimum service levels without the requirement of agreement with trade unions.
In Spain, the government has the power to set the minimum service level but must do so in a way that is proportionate, balancing the need of the community for those services and the fundamental right to strike. Spanish practice has also been criticised by unions where government authorities have failed to engage with unions and instead 'imposed disproportionate minimum services that, in effect, restrict the right to strike'. Spanish law also indicates that non-striking workers should be preferentially chosen.
In France, minimum service levels are set by legislation in a number of sectors (e.g. primary schools, air passenger transport, and public hospitals). In other sectors, and in the absence of statutory legislation, the government or administrative authorities may set a minimum level of service. This, however, cannot be the normal level of service and is subject to administrative review. While minimum service level legislation covers the transport sector in France, it has not been used in practice.
The UK Bill introduces a power for ministers to set a minimum service level. There is no provision for negotiation between employers and trade unions. Employers must consult with the trade union before issuing work notices, but do not have to negotiate or agree on which workers can be requisitioned. The Bill does not distinguish between union and non-union workers.
Resolving conflict over minimum service levels: the Bill does not bring the UK in line with Europe
In 69% of European countries, a dispute between a trade union and an employer over a minimum level of service should be resolved by either an independent body or through arbitration. In some states, notably Germany, the dispute can ultimately be resolved by a Court. The UK Bill does not indicate how a trade union can challenge a minimum service level or a work notice, and does not provide a role for an independent body, such as the Central Arbitration Committee, in dispute resolution.
In conclusion, the Bill introducing minimum service levels sets the UK in line with Europe, but the way in which it introduces minimum service levels is out of line with the majority of Europe.
By Dr Joelle Grogan, Senior Researcher, and Professor Catherine Barnard, Senior Fellow, UK in a Changing Europe.